User Account Control and Administrator Rights on Windows 10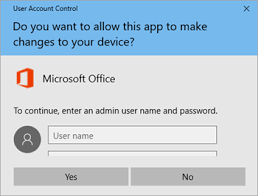 User Account Control (UAC) and Administrator Rights are two important functionalities of Windows 10 that determine what a user can and cannot do on their PC. These features work together to ensure that users have access only to the resources that they need, while also protecting the system from unauthorized changes and malware infections.
User Account Control is a feature that was first introduced in Windows Vista, and it has been a part of every version of Windows since then. UAC is designed to prevent unauthorized changes to the system by notifying users when a program or process tries to make changes to the Windows settings, installed software or hardware, or system files.
The UAC prompt usually asks the user for permission to continue with the action and requires the user to provide an administrator password. The purpose of this prompt is to prevent Malware and unwanted apps from making catastrophic changes to your Windows settings, which may result in glitches or complete failures.
The Administrator account, on the other hand, is a user account that has complete control over the system. An administrator can install software, make changes to the system registry, create and delete user accounts, access administrative functions, and modify system settings. An administrator account has full access to all system files and settings, which means that it can also make changes that may cause system instability or security vulnerability.
In the earlier versions of Windows, the default account was usually an administrator account, which meant that users had full access to the system right from the start. This was a significant security risk since the user could make changes to the system without knowing what they were doing, and many users ended up unintentionally installing Malware or other harmful software. As a result, Windows 10 has started to use UAC instead of relying on Administrator Rights as the primary protection against unauthorized changes.
In Windows 10, the default account is typically a standard user account, which does not have administrator rights. A standard user account can perform all the necessary tasks that a regular user needs to do, such as browsing the web, running applications, and creating and modifying files. However, a standard user account cannot install software, modify system settings, manage user accounts, or make other changes that require Administrator privileges.
With the use of UAC, Windows 10 allows standard users to elevate their privileges to perform specific tasks that require Administrator Rights. For example, if a regular user needs to install software, the system will prompt them for the administrator password, and then elevate their privileges. This approach provides a balance between user convenience and system security, as users can perform administrative tasks when needed without the risks of leaving administrative rights open on their account session.
In summary, User Account Control and Administrator Rights are essential features of windows 10 operating system that work together to protect the system against unauthorized changes and malware infections. By combining UAC prompts with standard user accounts, Windows 10 provides a secure environment where users can safely use their PCs without worrying about damaging the system. So make sure to understand the implications of granting Administrative Rights and when it prompts your UAC authorization, to guarantee the security and health of your windows system.