USB Type-C Explained: What is USB-C and Why You'll Want it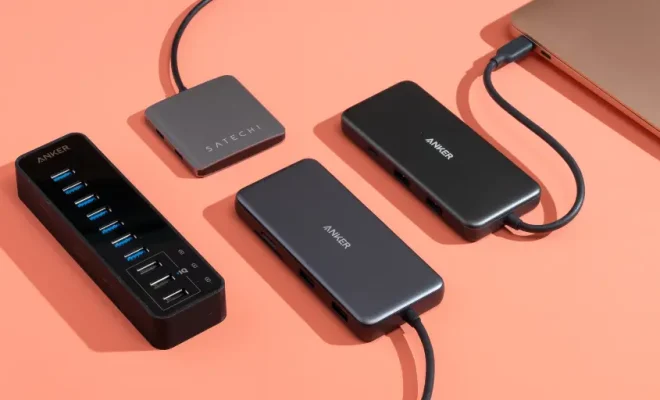 With technology advancing at a rapid pace, USB Type-C has quickly become the new standard in connectivity. It's fast, versatile, and promising, with a host of benefits that make it the go-to option for anyone looking for seamless and efficient data transfer, charging, and display connections.
If you're new to the world of USB Type-C, this article is for you. We'll explain what USB-C is, its benefits over other USB types, why you need it, and how to get started with it.
What is USB Type-C?
USB Type-C or USB-C is a new connector and cable standard that is set to replace the older USB-A and USB-B ports. It is a reversible, compact, and symmetrical connector, which means it can be plugged in any orientation without worrying about which end is up, saving you the hassle of flipping the cable around.
This new USB standard is designed to offer higher data transfer speeds, provide more power, and support a range of other interfaces and protocols, from audio and networking to video and storage. With USB-C, the future of connectivity is all-in-one, with a single cable that can handle just about everything.
What are the benefits of USB-C?
USB-C presents numerous benefits over its older USB counterparts. They include the following:
1. Faster data transfer speeds: USB-C can transfer data at much faster speeds than its predecessors. USB 2.0 transfers at a speed of up to 480 Mbps, while USB 3.0 transfers data at up to 5 Gbps. USB-C, on the other hand, can transfer data up to 10 Gbps, which means you can copy a 4K movie file in seconds.
2. Improved power delivery: USB-C can supply up to 100W of power, which is way more than the previous USB standards. This means you can use a single cable to charge your laptop, phone, tablet, and other devices quickly and efficiently.
3. Reversible design: USB Type-C is reversible, which means you can connect it to your device in any direction. You won't have to worry about the orientation of the connector, as both sides are the same.
4. Versatility: USB-C ports can support a range of other interfaces, including HDMI, DisplayPort, Ethernet, and Thunderbolt 3. This means you can use a single USB-C port to connect to multiple devices, saving you from the hassle of switching cables.
Why do you need USB-C?
USB-C provides an all-around solution to the traditional mess of cables and dongles that we have all become familiar with. With advanced capabilities such as high-speed data transfer, fast charging, and versatility, USB-C offers a significant advantage to anyone who wants a faster, more efficient, and more convenient way of connecting devices.
If you have a device that supports USB-C, you can use it to charge other devices, transfer data at high speeds, and link to an external monitor or TV. It's one of the few connectors that offer a single-cable solution for all your connectivity needs.
How to get started with USB-C?
If you've decided to jump on the USB-C bandwagon, the best way to get started is to ensure your devices are compatible. Check your laptop, phone, and tablet to see if they include a USB-C port, and if not, consider upgrading to a newer model that does.
In addition, you'll need to purchase USB-C cables and adapters to connect to various devices. Make sure to buy certified cables that can handle the desired data transfer or charging speed.
Conclusion
USB Type-C is an all-around game-changer in connectivity. With its advanced capabilities and versatility, it presents numerous benefits over older USB ports. If you're looking for a faster, more efficient, and more convenient way of connecting devices, USB-C is the way to go. Upgrade your devices and start enjoying the benefits of this advanced standard.