Unveiling the Chase Business Credit Cards for 2023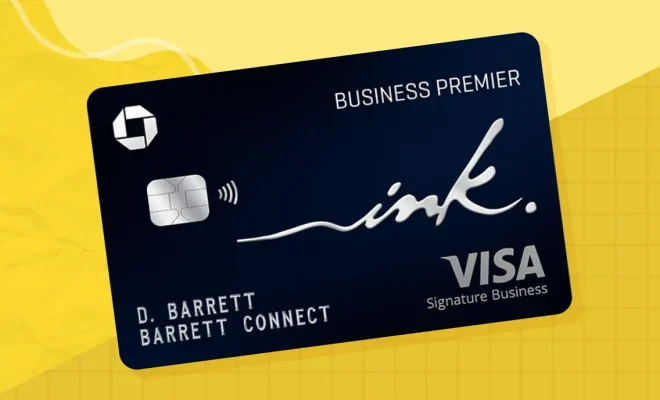 Introduction:
As a business owner, finding the right credit card for your company can significantly impact your financial management and overall growth. Chase offers a diverse selection of business credit cards designed to cater to various needs and preferences. In this article, we'll explore the features and benefits of Chase's business credit cards for 2023.
1. Chase Ink Business Cash Card:
The Ink Business Cash card is an excellent choice for businesses looking to maximize cash back rewards on office-related expenses. Cardholders receive:
– 5% cashback on the first $25,000 spent in combined purchases at office supply stores and on internet, cable, and phone services each account anniversary year
– 2% cashback on the first $25,000 spent in combined purchases at gas stations and restaurants each account anniversary year
– 1% cashback on all other purchases
There are no annual fees with this card, making it a cost-effective option for smaller businesses.
2. Chase Ink Business Preferred Card:
If you're after generous reward points that can be redeemed for travel, then consider the Ink Business Preferred card.
With this card, you'll receive:
– 3 points per dollar on the first $150,000 spent in combined travel and select business purchase categories each account anniversary year
– 1 point per dollar spent on all other purchases
– A generous signup bonus: Earn 100,000 bonus points after spending $15,000 within the first three months of account opening
This card carries an annual fee of $95 but provides additional benefits such as cell phone insurance and travel protections.
3. Chase Ink Business Unlimited Card:
For simplicity and flexibility in rewards earning, the Ink Business Unlimited card is worth considering. Offering unlimited cashback rewards at a flat rate of 1.5% on every purchase made in any category, this card is perfect for those who prefer not to keep track of the spending categories. Additionally, there is no annual fee.
Conclusion:
Chase business credit cards provide a range of benefits and rewards, ensuring that there's a card to suit every business need. From cashback rewards on specific categories to unlimited flat-rate rewards and travel points, Chase has got your business covered. Evaluate your company's spending patterns and financial goals to determine which card will be the most advantageous for your business in 2023.