Top 5 Ways to Disable Touchpad in Windows 11 Laptops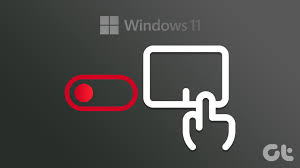 If you are a user of a Windows 11 laptop, you may have experienced some frustration when you accidentally move the cursor with your palm or fingers, especially if you are using an external mouse. Fortunately, there are several ways to disable the touchpad on Windows 11 laptops. Here are the top five ways to do so.
Method 1: Use the Touchpad Toggle Key
Most laptops come with a specific key that can disable or enable their touchpad. On Windows 11 laptops, this key is usually located on the F7, F8, or F9 keys, and it is indicated by a touchpad icon. To use this method, you just need to press and hold the Fn key, which is usually located next to the Windows key, and then press the touchpad toggle key.
Method 2: Use the Device Manager
The Device Manager is a core component of the Windows operating system that manages all devices connected to the computer. You can use it to disable or enable your touchpad by following these steps:
1. Search for "Device Manager" in the Windows search bar and open it.
2. Find the "Mice and other pointing devices" category and click the arrow to expand it.
3. Right-click on your touchpad and select "Disable device".
4. Confirm the action by clicking "Yes" on the pop-up window.
Method 3: Use the Control Panel
The Control Panel is another tool in Windows 11 that can be used to disable or enable your touchpad. Here are the steps to follow:
1. Press the Windows key + X and select "Control Panel".
2. Click on "Hardware and Sound", and then "Devices and Printers".
3. Find your laptop under "Devices" and right-click on it.
4. Select "Mouse settings" and click on the "Device settings" tab.
5. Click on the "Disable" button to disable your touchpad.
Method 4: Use the Settings App
Windows 11 has a modern Settings app that can also be used to manage your laptop's touchpad. These are the steps to disable your touchpad using the Settings app:
1. Press the Windows key + I to open the Settings app.
2. Click on "Devices" and then "Touchpad".
3. Toggle off the "Touchpad" switch.
Method 5: Use a Third-Party Tool
If none of the above methods work for you, or if you want to have more advanced options to manage your touchpad, you can use a third-party tool such as TouchFreeze, Touchpad Blocker, or Touchpad Pal. These tools can be downloaded for free and allow you to customize touchpad settings, disable touchpad when typing, or block accidental clicks.
In conclusion, these are the top five ways to disable touchpad in Windows 11 laptops. By using any of these methods, you can avoid accidental cursor movements, improve your productivity, and enjoy a better experience while using your laptop with an external mouse or keyboard.