The Best Fishing Forecast Apps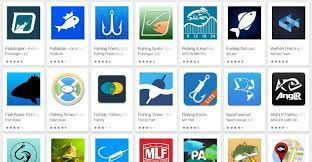 Fishing is an ageless activity that has been enjoyed by millions of people worldwide. It relaxes the mind while providing a great deal of excitement and anticipation. To make the most out of your fishing experience, having accurate weather and fishing forecasts is essential. Thanks to modern technology, there are now fishing forecast apps you can use to stay updated on weather changes, tide patterns, water conditions, and fish behavior. Here are some of the best fishing forecast apps you should consider using.
1. Fishbrain
Fishbrain is a popular fishing app used by millions of anglers worldwide. One of the app's key features is the fishing forecasts it provides. The app relies on live data, weather reports, and local reports from other anglers to provide accurate information on when and where fish are biting. With Fishbrain, you can get information on over 130 fish species, access a global fishing community, and use detailed maps to find the best fishing spots.
2. My Fishing Forecast
My Fishing Forecast is another popular fishing app that provides useful information regarding weather patterns and fish behavior. The app is designed to provide detailed fishing forecasts for different locations worldwide, including saltwater and freshwater fishing spots. The app uses real-time data on weather conditions, water currents, and significant fish events to provide accurate forecasts throughout the day. With My Fishing Forecast, you can save your favorite fishing spots and get detailed information like solunar charts, wind speed, tides, and more.
3. Fishing Points
Fishing Points is an all-in-one fishing app that provides a wide range of features to help anglers plan their fishing expeditions. One of the app's key features is the fishing forecasts provided via the app's "Fish Activity" feature. The feature provides information on when fish are most active, with a comprehensive weather forecast of wind direction, water temperature, sun and moon phases, and other critical information about the fishing spot. The app also has real-time maps that can help you find suitable fishing spots near you, a trip planning feature, and a logbook where you can track your fishing activity.
4. Pro Angler
Pro Angler is a fishing app designed to help anglers of all levels catch more fish. One of the app's features is the fishing forecast, which provides a detailed summary of weather conditions, tides, and solunar information at any given fishing location. The app has an extensive library of fishing maps, with detailed underwater contours that help anglers find better fishing spots with ease. With Pro Angler, you can also get access to a fishing diary, moon phase calendar, and detailed species descriptions.
Conclusion
Fishing forecast apps are a must-have for any angler looking to stay updated on fishing conditions and plan their trip accordingly. These apps help you find the best fishing spots, provide detailed weather forecasts, and keep track of your fishing activity. Some of the best fishing forecast apps in the market are Fishbrain, My Fishing Forecast, Fishing Points, and Pro Angler. With these apps, you can improve your fishing experience and increase your chances of catching more fish.