The 5 Best Online Vocal Removers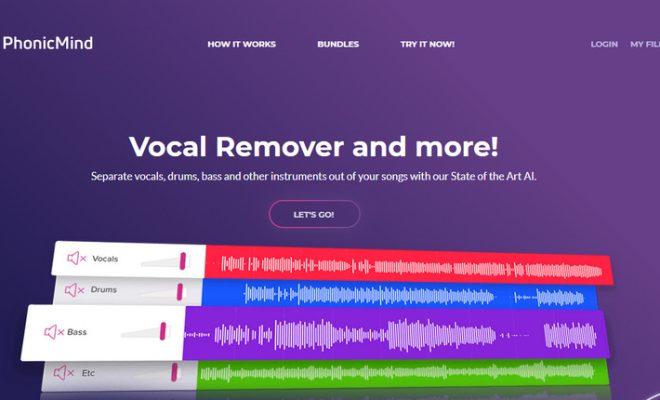 Music enthusiasts everywhere have always been intrigued by the idea of isolating a vocal track from a song. Whether it's to sing along to their favorite tune or create a remix, a vocal remover tool can come in handy. While there are several vocal removers available in the market, it's essential to know which one works best for you. And, with most of us now turning to online platforms for our music needs, we have curated a list of the five best online vocal removers.
1. PhonicMind:
PhonicMind is a popular online vocal remover that uses artificial intelligence and machine learning technology. Users can upload the songs they want to remove vocals from, and the platform processes the audio file in a matter of minutes, allowing them to download the vocals-free track. They also offer a free trial option, and the pricing plans are affordable.
2. AudioRemover:
AudioRemover is a highly efficient online tool that is easy to use, and it removes vocals from audio files with speed and precision. This platform offers users a simple interface where they can upload their audio files and instantly remove the vocal tracks. The tool currently supports MP3 and WAV formats and offers a free trial option.
3. Karaoke-A-Go-Go:
Karaoke-A-Go-Go is another reliable online vocal remover tool that can isolate a vocal track from a song within seconds. The platform offers users a user-friendly interface, and the results are accurate. Along with removing vocals, the tool also offers users the ability to adjust audio levels and create their karaoke tracks.
4. Vocal Remover Pro:
Vocal Remover Pro has an exceptional algorithm that removes vocals from a song efficiently. The platform uses a unique process to analyze the input file, and within minutes, it can generate a high-quality instrumental track. Additionally, the tool allows users to adjust the volume levels of the remaining track.
5. Lalal.ai:
Lalal.ai is a cutting-edge online vocal remover tool that uses Artificial intelligence to detect and remove vocal tracks from a song. Users can upload their tracks, and within seconds the platform generates a new instrumental track that is of high quality. The platform also offers users the option to try out other AI-powered audio tools, including instrumental isolation and stem separation.
In conclusion, online vocal remover tools provide a unique opportunity for music enthusiasts to remix their favorite tracks. While several vocal removers are available online, the ones mentioned in this article offer high-quality output, affordability, and straightforward usability. Ultimately, the choice of which tool to use depends on the user's needs, budget, and compatibility with the tool.