Onkyo TX-NR696 review: The new king of the do-it-all big black boxes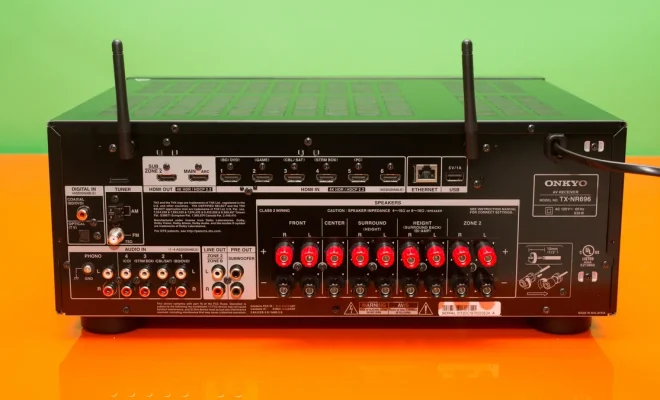 In recent years, there's no denying that the AV receiver market has been flooded with impressive options to suit every budget. However, one model stands out from the crowd, quickly earning its place as the go-to choice for many: the Onkyo TX-NR696. This powerhouse of a receiver packs enough features to satisfy even the most demanding audio enthusiasts and offers a unique combination of high-quality sound and advanced capabilities in a sleek and stylish package.
The Onkyo TX-NR696 delivers incredible audio and video processing capabilities, making it an ideal centerpiece for any home theater setup. With its impressive list of features and cutting-edge technology, it's no wonder that this receiver is quickly earning the title of "The New King of the Do-It-All Big Black Boxes." Here are some reasons why you should consider adding this powerhouse to your entertainment arsenal.
Powerful Sound Performance
The Onkyo TX-NR696 boasts a massive power output of 100 watts per channel at 8 ohms, allowing it to handle even the most demanding speaker configurations with ease. This ensures that whether you're watching movies, playing games, or listening to music, you'll experience rich and immersive audio that's both crisp and clear.
Support for Hi-Res Audio Formats
One of the standout features of the Onkyo TX-NR696 is its support for multiple hi-res audio formats, including DSD (up to 5.6 MHz) and PCM (up to 192 kHz/24-bit). It also supports Dolby Atmos and DTS:X, providing access to true 3D surround sound and ensuring you have an immersive and captivating listening experience.
4K & HDR Compatibility
The Onkyo TX-NR696 supports full HDCP 2.2 compatibility, 4K Ultra HD, and HDR (High Dynamic Range), including Dolby Vision and HLG (Hybrid Log-Gamma). This means you can enjoy stunning visuals and vibrant colors while watching your favorite movies, TV shows or playing games.
Wireless Connectivity
The TX-NR696 is equipped with several wireless connectivity options, including Wi-Fi, Bluetooth, and Chromecast built-in. These features make it easy to connect and stream music from your favorite devices without the hassle of cables. On top of that, compatibility with the Sonos ecosystem allows it to become part of a versatile multi-room audio system.
Versatile Streaming Options
In addition to its wireless connectivity, the Onkyo TX-NR696 also offers built-in support for
various popular streaming services such as Spotify, Tidal, Deezer, TuneIn Radio, Amazon Music and more. This ensures that you have access to an almost endless selection of music at your fingertips.
Ease of Use
Despite being packed with advanced technology and features, the Onkyo TX-NR696 remains user-friendly. Its intuitive GUI (Graphical User Interface), comprehensive remote control, and seamless integration with both Android and iOS devices via the Onkyo Controller app make this receiver an accessible option for even those without extensive technical knowledge.
Conclusion
Thanks to its powerful sound performance, hi-res audio support, extensive connectivity, and versatile features, the Onkyo TX-NR696 is an unbeatable choice for those looking to upgrade their home theater setup. With its combination of functionality and ease-of-use, it's no wonder that this receiver has quickly claimed the title of "The New King of the Do-It-All Big Black Boxes."