Nook vs. Kindle: Which Ebook Reader Is Best for You?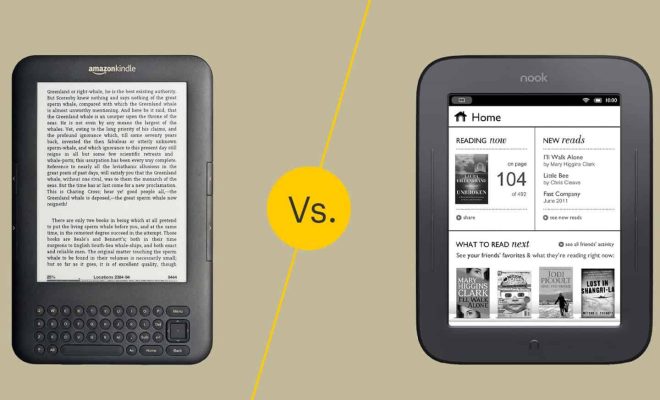 In today's fast-paced digital world, ebook readers are the preferred way to access books for many people. Amazon Kindle and Barnes & Noble Nook are two of the most popular e-readers in the market, each with its own benefits and drawbacks. In this article, we will discuss the features of each device to help readers decide which ebook reader is a better fit for their needs.
Design and Build Quality
The Kindle and Nook are both lightweight, portable, and easy to carry devices. The Kindle features a sturdy plastic shell and has a glossy finish, while Nook has a more plush feel with its rubberized texture. The screen size of the Nook is slightly bigger, at 6.8 inches compared to the Kindle's 6 inches. Additionally, Nook has a physical page-turning button, while Kindle does not provide this feature. However, the Kindle's interface is more user-friendly and easier to navigate compared to Nook.
Battery Life
Battery life is an essential factor to consider when choosing an ebook reader. The Kindle offers up to six weeks of battery life while the Nook provides only two or three weeks of battery life on a single charge. This makes Kindle the more convenient choice, especially for travelers or people who aren't able to charge their device frequently.
Content Availability
Both Kindle and Nook offer a vast selection of ebooks, newspapers, and magazines. However, Kindle users must purchase books from Amazon, which is the world's largest online retailer, while Nook provides access to books purchased from Barnes & Noble. However, Kindle is compatible with the Amazon Prime Reading service, which offers free access to thousands of books, magazines, and comics to Prime members.
Price
Price is always a significant factor when making a purchasing decision, and neither device is particularly cheap. Both the Kindle and the Nook start at around $80, with higher-end models such as the Nook Glowlight Plus and the Kindle Paperwhite costing over $100. However, Amazon periodically offers discounts, making it easier to get the device at a more affordable price point.