Minimum Wage by State: Base Pay Rising in Over Half of US States in 2023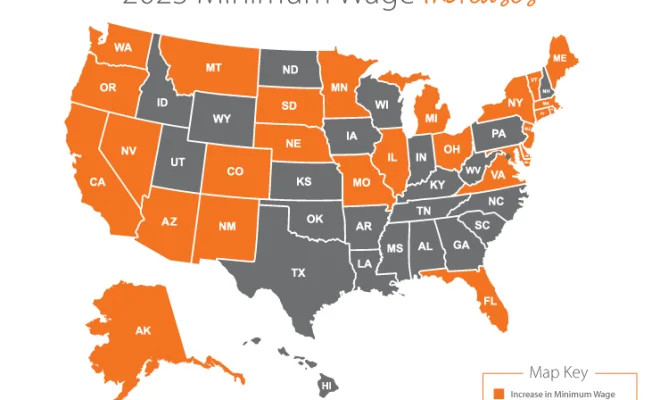 Introduction:
As we head into 2023, more than half of the US states are set to increase their minimum wage rates. This development signifies an upward trend in the effort to provide workers with higher base pay, leading to a boost in their overall income. In this article, we will discuss key details about this development and its implications for both employees and employers across the country.
Minimum Wage Increases Across the States:
In 2023, a total of 27 states are expected to raise their minimum wage requirements. The increases range from a modest $0.25 per hour adjustment to more significant adjustments of up to $1.50 per hour. Among the states incorporating these changes are California, New York, Washington, Massachusetts, and Colorado – each making strides to uplift workers' financial standings.
Reasons for Minimum Wage Increases:
One of the primary driving factors behind these impending increases is the persistent advocacy by labor groups and activists for wage equality and efforts to combat poverty. Over time, they have convinced lawmakers and officials that minimum wage hikes are necessary to cater for inflation, cost-of-living adjustments, and providing a livable income level for millions of workers.
Furthermore, several states have enacted laws that mandate automatic annual adjustments based on inflation figures or consumer price indices. Designed to gradually raise the minimum wage over time, these laws aim to ensure that workers continue receiving adequate pay even as living costs increase.
Implications for Employees:
For many employees working at or near minimum-wage levels, pay increases will improve their financial capabilities by providing a larger income pool from which they can draw to cover basic necessities such as housing, food, transportation, and medical expenses. Besides addressing dire financial situations these workers might face, higher wages may ultimately lead to enhanced satisfaction and self-esteem.
Implications for Employers:
On the other hand, employers may feel the effects of increased minimum wages in various ways. In some cases, having to provide higher base pay might cause businesses to cut workforce numbers – potentially leading to a rise in unemployment. Alternatively, companies could turn to automation to reduce human labor costs. However, some employers may view these changes as a positive, especially if they result in improved worker morale and productivity.
Conclusion:
The 2023 landscape offers a significant step towards improved overall living standards for millions of workers across more than half of the US states. As minimum wage rates continue to rise, the focus should remain on finding a balance that accommodates both employees and employers – paving the way for shared success and enhanced economic growth across the nation.