Microsoft Edge vs. Google Chrome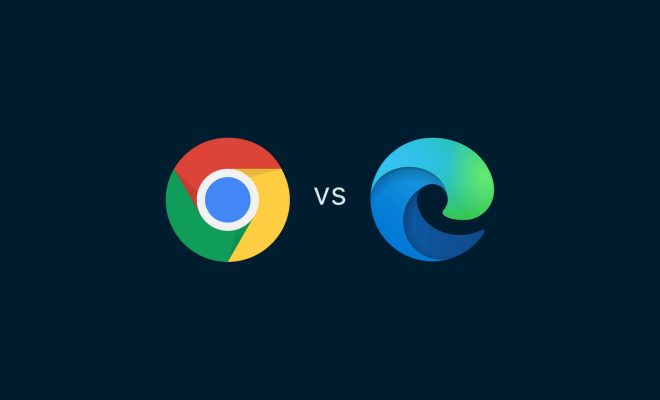 When it comes to web browsers, Microsoft Edge and Google Chrome are two of the most popular options out there. Both offer a fast, reliable browsing experience, and they have a wide range of features that make them appealing to users. But which one is better? Let's take a closer look.

Interface and design
Google Chrome has a more minimalist design with larger tabs and fewer buttons on the toolbar, which gives it a cleaner look compared to Microsoft Edge. On the other hand, Microsoft Edge's interface is more customizable, allowing users to adjust the color theme and pick between a light or dark mode.

Performance and speed
Both browsers are fast and load pages quickly, but Google Chrome is known for its faster overall speed and lower memory usage. Microsoft Edge has made significant improvements in this area, but Chrome still takes the lead when it comes to speed.

Privacy and security
Google Chrome has a robust set of privacy and security features, including built-in malware protection and incognito mode. Microsoft Edge, meanwhile, uses a lot of the same technology as Chrome, such as its SmartScreen filter, but with added privacy features like tracking prevention.

Extensions and Add-ons

Both Chrome and Edge have a wealth of extensions that can improve your browsing experience in various ways. Chrome has a wider range of extensions, but Edge is catching up fast, with many of the same extensions available on both platforms.

Compatibility

Chrome has been around longer, and it's been optimized to work with a wide range of websites and web apps. Although Edge has also come a long way, it may still experience compatibility issues with some older websites and apps.

Which is the better browser?
In the end, the choice between Microsoft Edge and Google Chrome boils down to personal preference. Both browsers have similar features, and each has its pros and cons. If you're looking for better performance and faster speed, Chrome is the way to go. But if you're concerned about privacy and security, and want more customization options, Edge may be the better choice.
Overall, the two browsers are neck-and-neck in terms of quality and functionality, and ultimately, you can't go wrong with either one. It's all about what works best for your needs and preferences.