Lego Star Wars: The Skywalker Saga (for Nintendo Switch) Review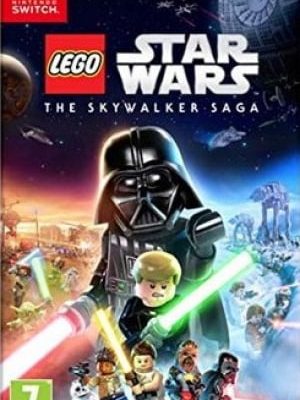 Lego Star Wars: The Skywalker Saga for Nintendo Switch is finally here, bringing the entire iconic series to life in a fun, engaging, and family-friendly package. From the moment you start playing, it's evident that this game has embarked on an ambitious journey to recreate the beloved universe we all know and love. With its impressive graphics, expansive gameplay options, and well-implemented mechanics, Lego Star Wars: The Skywalker Saga truly shines as a must-have title for fans old and new.
Gameplay
Featuring all nine Skywalker Saga movies, players have the freedom to explore more than 300 playable characters across various planets in the Star Wars galaxy. This open-world structure provides countless hours of entertainment and replayability.
The gameplay in Lego Star Wars: The Skywalker Saga remains true to the classic Lego game formula but introduces various new features and improvements. Combat has been overhauled with a more dynamic system that allows players to string together combos and tackle various enemies head-on. Moreover, platforming elements and puzzles have never felt as fluid as they do now.
Graphics and Performance
The visuals in this installment are stunning, bringing the Lego Star Wars world to life with vibrant colors, detailed models, and high-quality textures. Even on the Nintendo Switch's smaller screen or when docked to play on a larger display, everything looks sharp and polished.
Playing on the Nintendo Switch offers portability benefits without compromising performance. Frame rates remain steady even during intense battles or densely populated environments. The loading times may occasionally feel longer compared to other platforms but remain within acceptable limits for a game of this magnitude.
Sound Design
The sound design is undoubtedly one of the highlights of this game. It combines iconic tracks from John Williams' memorable scores with original compositions that truly immerse players in the Star Wars universe. Sound effects are spot-on too, perfectly capturing the essence of different characters, creatures, and weapons.
Multiplayer
Couch co-op has always been a central feature of the Lego game series, and it's stronger than ever in The Skywalker Saga. The game's drop-in/drop-out multiplayer system means that friends and family can jump into the action anytime. This addition greatly enhances the enjoyment of an already thrilling gaming experience.
Conclusion
Lego Star Wars: The Skywalker Saga is a fantastic addition to both the Lego and Star Wars franchises. Its expansive universe, captivating storylines, overhauled gameplay mechanics, detailed graphics, and enjoyable multiplayer make it a must-play game on Nintendo Switch for fans of all ages. Whether you're a long-time Star Wars enthusiast or a newcomer to the galaxy far, far away, Lego Star Wars: The Skywalker Saga delivers an unforgettable adventure that's truly out of this world.