iPhone Volume Buttons Not Working? Try These Fixes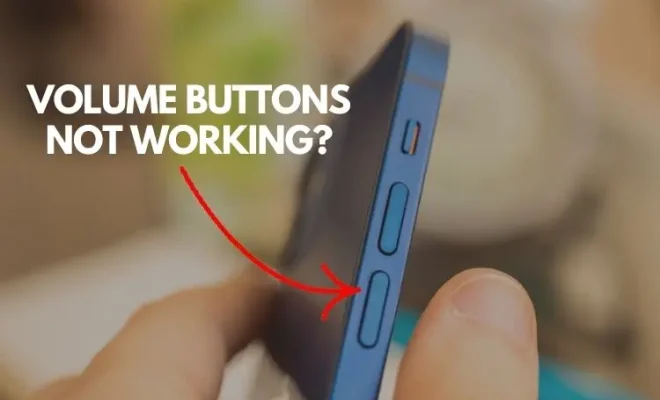 If you have recently encountered the problem of your iPhone volume buttons not working, don't panic. This issue can be easily resolved with a few simple troubleshooting techniques. Here are some fixes you can try to get your iPhone volume buttons working again.
Check Your iPhone's Software
The first thing you need to do is make sure that the issue is not caused by your iPhone's software. Check if your iPhone is updated to the latest version. If not, update your iPhone to the latest version available. To update your iPhone, go to Settings > General > Software Update. If an update is available, tap on Download and Install and follow the on-screen instructions to complete the process.
Restart or Hard Reset Your iPhone
Another simple solution that can fix the volume button issue is to restart or hard reset your iPhone. A restart can fix many software-related issues on your iPhone, including the volume button problem. To restart your iPhone, press and hold the power button until you see the "Slide to Power Off" option. Swipe the slider to turn off your iPhone. Wait for a few seconds, then power on your iPhone by pressing and holding the power button until you see the Apple logo.
If the issue persists, try a hard reset. To hard reset your iPhone, press and hold the power button and the volume down button at the same time until you see the Apple logo.
Clean Your iPhone's Buttons
Another reason why the iPhone volume buttons may not be working is due to dirt or debris blocking the buttons. It is easy for dirt and grime to accumulate around the buttons of your iPhone. You can clean your iPhone's buttons by using a soft, dry cloth or a toothbrush. You can also use a small amount of isopropyl alcohol on a cotton swab to clean the buttons.
Use AssistiveTouch
If none of the above solutions work, you can try using AssistiveTouch. AssistiveTouch is an accessibility feature that can help you perform certain tasks on your iPhone, including adjusting the volume. To enable AssistiveTouch, go to Settings > Accessibility > Touch > AssistiveTouch. Turn on the switch to enable AssistiveTouch.
Once enabled, you will see a small button on your screen that you can use to adjust the volume. Tap on the button to open the AssistiveTouch menu, then tap on the Device icon. From here, you can adjust the volume by dragging the slider.