Invisible files with "._" prefix are created on some shared volumes and external disks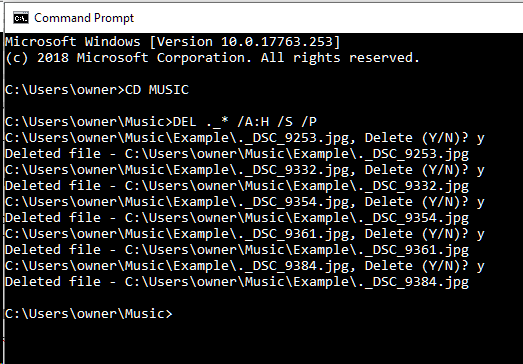 Introduction
Have you ever noticed a peculiar, invisible file with a "._" prefix appearing on your shared volumes or external disks? These files can be puzzling, and their presence raises questions about their origin and purpose. In this article, we will dive deep into the world of these invisible files and shed light on why they are created on some shared volumes and external disks.
What are Invisible Files with "._" Prefix?
These invisible files with names that start with "._" are commonly referred to as dot-underscore files or hidden files. Their purpose is to store additional metadata associated with the primary file. Apple's macOS and OS X operating systems create these files when a user interacts with a non-native file system (such as a shared volume or an external drive formatted in a different format than HFS+ or APFS).
Why are they created?
When using an Apple computer, Mac users experience a smooth and seamless interaction with local files stored within the macOS or OS X native file systems (HFS+ or APFS). These systems have inherent mechanisms to store resource fork data and other metadata. However, when interacting with non-native file systems such as FAT32, exFAT, or NTFS (commonly found in shared volumes and external disks), macOS cannot utilize the same techniques to store this metadata.
To work around this limitation, the operating system creates these dot-underscore files when you interact with non-native storage locations. So it is essentially a way to maintain compatibility between macOS/OS X native features and external storage devices that use different file system formats.
What information do these files contain?
The dot-underscore files contain resource fork data and other metadata associated with the primary file. This additional information can include extended attributes, Finder information, custom icons, preview images, among others.
Should you be concerned about these files?
Although they might seem intimidating, these dot-underscore files are typically harmless and have little to no impact on the overall performance of your system or the integrity of your data. However, if you are sharing files with users on non-Apple devices, these hidden files can become visible and possibly cause confusion.
How to prevent their creation or remove existing ones?
If you want to avoid creating these files when working with shared volumes or external disks, one solution is to use a third-party application that suppresses their creation, such as BlueHarvest. Alternatively, you can also format your external disk in a macOS-native format (HFS+ or APFS) if it will only be used with Apple devices.
In case these invisible files have already been created and are causing issues for other users, you can remove them using Terminal commands like "find" and "rm" (remove). However, be cautious when using these commands as it's possible to accidentally delete important files if not done correctly.
Conclusion
To sum up, invisible files with "._" prefix are created by macOS or OS X on shared volumes and external disks formatted in non-native file systems as a way to store metadata associated with the primary files. They serve an essential purpose in maintaining compatibility between different storage systems and help preserve the native functionality of macOS/OS X. While generally harmless, if they become a nuisance or cause confusion when sharing data with others, there are ways to prevent their creation or remove them safely.