In the Wake of Teacher Shortages, Schools are Turning to Virtual Teachers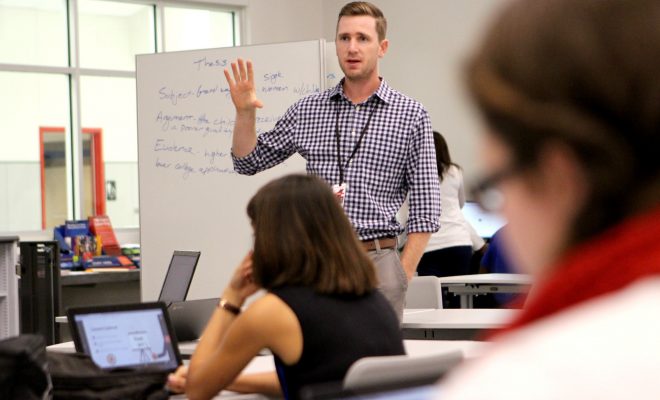 Teaching was once a greatly respected position, and today, morally it still seems to be of high value to many Americans. Institutionally, however, teaching no longer seems to hold the same reverence as it once did. Educators are either retiring from or, sadly, fleeing the position they once felt was their calling.High stakes testing,low pay, lack of respect, and merely feeling unhappy in their role are just some of the reasons teachers are exiting the profession.
How are school districts responding?
To combat the loss of teachers in the brick and mortar classroom, K-12 schools have had to get creative. One common solution being used in many institutions across the U.S. is the hiring of virtual teachers. The success rate at filling virtual positions over on ground positions has allowed many schools to be able to operate without interruption, and most importantly, educate the students who are, or could be, affected by educator loss.
Rural schools, for example, often find themselves struggling to entice and keep teachers in their communities. Small towns often lack resources found in larger towns and cities, making living there less appealing for some. Financially, rural communities sometimes struggle as well, so pay for teachers may be even lower than it is in more densely populated areas. This certainly does not apply to all rural communities. Hiring virtual teachers helps these struggling schools fill positions they may otherwise leave empty due to circumstances beyond their control.
Other schools, whether they be rural or not, may decide to hire virtual teachers to teach a subject, while using long-term substitutes to supervise students in a classroom. Thus, students may attend class while sitting in a physical classroom but engage with the content and educator virtually. Ton ground substitute acts as a facilitator. This scenario is especially common when there is a need for a specialized course, such as a foreign language, and as a result, finding qualified in-person educators is harder to achieve.
What are the pros and cons of hiring virtual teachers?
Cost is another common factor when attempting to fill vacant teacher positions. Hiring a virtual instructor, albeit typically certified and well-credentialed, costs less than hiring a full-time, on the ground instructor. Cutting already fixed costs by having students learn via the internet is to many schools a no-brainer.
Of course, the use of virtual teachers over on-ground teachers is not without its issues. Internet connectivity issues and unstable technology may be a problem in areas that are more rural or in schools where financial means do not allow for the purchasing of more up-to-date technological resources. Having a substitute facilitate a classroom full of students in a school where there is not enough technology, for example, may overburden that individual with the task of ensuring each student gets a turn using a computer or a microphone.
However, without other alternatives, turning to virtual teachers to fill teacher gaps is for many schools their best option. Their goal, in the end, is to provide each student with access to qualified teachers, be they on the ground or online.