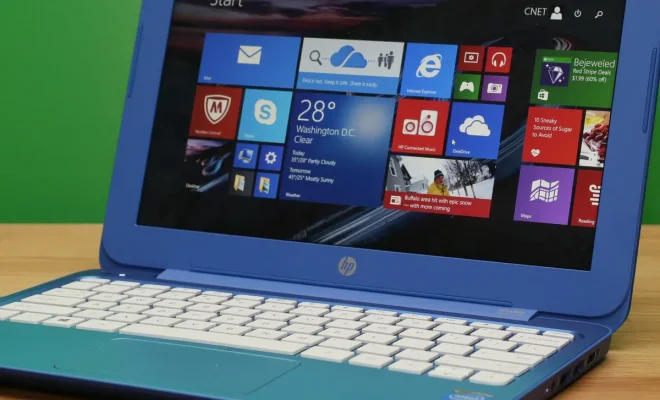 The HP Stream 11 is a budget-friendly notebook that is designed for students and everyday users who require a lightweight, reasonably powerful, and affordable laptop. The HP Stream 11 boasts an Intel Celeron processor, 4GB of RAM and a 64GB eMMC flash storage. The laptop is available in a variety of colors, including purple, blue and silver.
Design and Display
The HP Stream 11 has an 11.6-inch display with a resolution of 1366 x 768 pixels. The display is not the best out there, but it is sufficient for everyday tasks. The laptop has a plastic chassis that features a dotted pattern on the lid. The laptop is also lightweight, weighing in at just 2.57 pounds and measures 11.81 x 8.10 x 0.71 inches. The keyboard and touchpad are comfortable and responsive, making the laptop easy to use for extended periods.
Performance
The HP Stream 11 is powered by an Intel Celeron N4000 dual-core processor clocked at 1.1 GHz, and it can turbo boost up to 2.6 GHz. The laptop comes with 4GB of RAM and a 64GB eMMC storage. The HP Stream 11 is not a powerful laptop, and it is not designed for heavy-duty tasks. However, the laptop is efficient in handling basic computing tasks like web browsing, creating documents, and streaming videos. It also runs on Windows 10 S OS, which is a simplified version of Windows 10 that uses Microsoft Store apps. The laptop can be upgraded to the full version of Windows 10 for free, but this will require a bit of work and can be time-consuming.
Battery Life
The HP Stream 11 has an impressive battery life, lasting up to 13 hours on a single charge. This long battery life means that the laptop can be used all day without requiring a recharge, making it an excellent option for students and users who are always on the go.
Connectivity
The laptop features an array of connectivity options, including two USB 3.1 ports, an HDMI port, a headphone jack, and an SD card slot. It also has a front-facing camera with a 720p resolution which is ideal for video conferencing.
Conclusion
The HP Stream 11 is an affordable laptop that is designed for users who need a basic computing device that is lightweight, portable, and efficient. The laptop may not be the most powerful out there, but it gets the job done. The HP Stream 11 is a great laptop for students or anyone who needs a computer for basic tasks. Its long battery life and lightweight design make it an impressive option for those who are always on the go. Overall, if you are looking for a budget-friendly laptop that can handle everyday tasks efficiently, HP Stream 11 is an excellent option to consider.