How to Update a Samsung Smart TV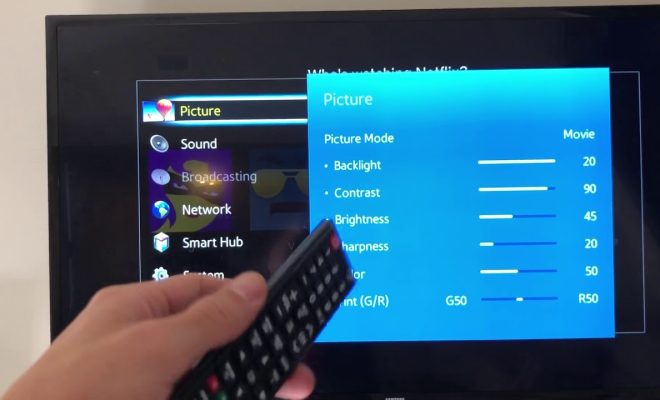 Samsung Smart TVs are known for their advanced features and exceptional user experience. However, it is crucial to keep your Smart TV up-to-date with the latest firmware to ensure that you can access new features, services, and apps that Samsung may release.
Here is a step-by-step guide to updating your Samsung Smart TV to the latest firmware.
Step 1: Check Your TV Model
First, determine your Samsung Smart TV model. You can find this information on the back of your TV or in the user manual. Different TV models may have different steps, so it is important to ensure that you have the correct instructions.
Step 2: Connect to the Internet
Before updating your Samsung Smart TV, make sure that it is connected to the internet. You can connect your TV to the internet using a wired or wireless connection. A wired connection is recommended for a more stable and faster internet connection.
Step 3: Check for Updates
Go to the Smart Hub on your Samsung Smart TV by pressing the Home button on your remote control. Once in the Smart Hub, select "Settings" and then select "Support." In the Support menu, select "Software Update," and then select "Update Now."
Your TV will then search for available updates automatically. If an update is available, the TV will display a message asking you to confirm whether you want to update your TV. Select "Yes" to proceed with the update.
Step 4: Wait for the Update to Complete
Once you have confirmed that you want to update your Samsung Smart TV, your TV will begin to download the latest firmware automatically. The download time will vary depending on your internet connection speed and the size of the update.
Do not turn off your TV or unplug it during the update process. Doing so can damage your TV and may cause the update to fail.
Step 5: Restart Your TV
After the download is complete, the TV will automatically install the firmware. Once the installation is complete, your Samsung Smart TV will restart automatically.
Once your TV has restarted, you can check that the update was successful by going to the "Settings" menu and selecting "Support" and then "Software Update." Your TV should display the message "The latest update has been installed."
In Conclusion
Updating your Samsung Smart TV is a simple process that can be done in a few easy steps. Keeping your TV up-to-date will ensure that you have access to the latest features and services, which will enhance your viewing experience. Ensure that you regularly check for updates to keep your Samsung Smart TV running smoothly.