How to Save Web Pages in Google Chrome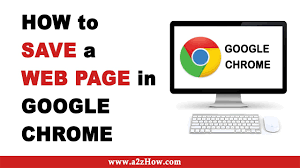 As we surf the internet, we often come across informative articles, blogs or pages that we may like to save for future reference. Google Chrome, the widely used web browser, provides several options to save web pages for offline use. Here's a simple guide on how to save web pages in Google Chrome:
1. Bookmarking:
One of the easiest and most common ways to save a web page is to bookmark it. To do this, click on the star icon located on the right side of the address bar. This will save the link to the page, as well as any custom name and folder you select for it. You can access the bookmarked page by clicking on the "Bookmark Manager" option, located under "Bookmarks."
2. Saving as PDF:
Google Chrome has a built-in feature that enables you to save web pages as PDF files. This option comes in handy if you want to retain the page's layout and format, including images and hyperlinks. To save a page as a PDF, click on the three dots located on the top right-hand corner of the screen and select "Print." Under the "Destination" menu, select "Save as PDF," and then click on "Save."
3. Using Chrome's "Save Page" function:
Another way to save web pages in Google Chrome is to use the "Save Page" feature. This option allows you to save the page with all its contents, including images, scripts, and stylesheets. To use this, right-click on the page you want to save, and select "Save Page As." You can then choose where to save the page on your computer and what format to use.
4. Using a web page extension:
Google Chrome also supports several extensions that allow you to save web pages in different formats. For instance, the "Save All Images" extension enables you to save all images on a page quickly. Similarly, the "Evernote Web Clipper" extension enables you to save a page as a note in Evernote. You can explore the Google Chrome Web Store to find more such extensions.
In conclusion, Google Chrome provides several options to save web pages, depending on your preferences. By using any of the above methods, you can easily access and use web pages whenever you want, even without an internet connection.