How to Print in Black and White on a Mac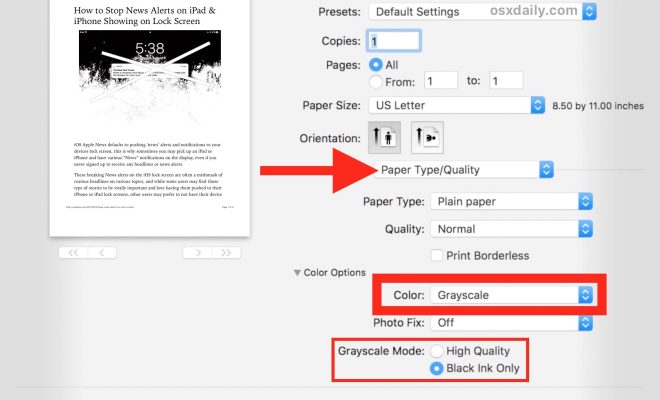 Mac users may want to print documents, pictures, or any other materials in black and white for several reasons. Printing in black and white can save you money, help conserve ink cartridges and toners, and give your documents a sleek and professional look. In this article, we'll guide you in printing black and white on a Mac easily.
Step 1: Open the document or file you want to print.
The first step in the process is to open the document or file that you want to print. You can either use a built-in application like Pages, Keynote, or Notes or use a third-party program like Microsoft Word or Adobe Acrobat Reader.
Step 2: Access the Print Dialog Box.
Once you have opened the document or file that you want to print, click the File menu located at the top of your screen. A drop-down menu will appear, and you need to select the Print option.
Alternatively, you can use the shortcut key "Command + P" to access the Print dialog box.
Step 3: Configure your printer settings.
In the Print dialog box, you will see a list of print settings that you can specify. Under the Printer section, click the drop-down arrow to choose the printer you want to use. This option may not be available for USB-connected printers that automatically send print jobs to a printer.
Note that not all printers have the same settings. Make sure to check your printer manufacturer's website for the manual or instructions.
Step 4: Select the Black & White option.
After selecting your printer, look for the option that says Color, and select Black & White.
Step 5: Set the Print Orientation.
The next step is to ensure that your document will print the way you want it to. Check the Orientation settings, and you can choose either Landscape or Portrait.
Step 6: Preview Your Print Job.
Before hitting the Print button, you can preview your print job by clicking the Preview button. This feature allows you to see how your document looks like before printing it.
Step 7: Hit the Print button.
Lastly, click the Print button on the lower-right corner of the Print dialog box. Doing so will send your print job to your selected printer, and you should have your document printed in black and white.
In conclusion, printing in black and white on a Mac is a simple process. By following the steps outlined above, you can save yourself time and money, and give your documents a classic, professional look. With these steps, you can enjoy the convenience of printing black and white on your Mac.