How to Make a Water Breathing Potion in Minecraft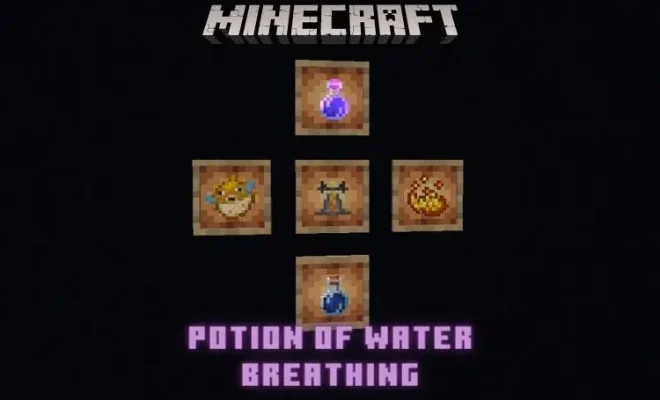 Minecraft is a game about creativity, adventure, and exploration. One of the most important aspects of Minecraft is the ability to survive in the game's harsh and unforgiving environment. One way to stay alive is by creating a water breathing potion, which will allow you to breathe underwater for a limited time.
To create a water breathing potion, you'll need to gather a few essential items. Here's what you'll need:
– Nether wart
– Pufferfish
– Water bottles
– Blaze powder
– Brewing stand
1. Find Nether Wart
Nether wart is a plant that can be found in the Nether. You'll need to travel to the Nether and find a Nether fortress to locate some nether wart. Once you find the fortress, look for the wart blocks, which are found in the hallways and chambers of the fortress.
2. Harvest the Nether Wart
To harvest the nether wart, use a pickaxe or other tool to break them down. Once broken, the nether wart will drop individual nether warts, which can be used to brew potions.
3. Obtain Pufferfish
Pufferfish are found in oceans, rivers, and other bodies of water. You will need to use a fishing rod to catch them.
4. Create Water Bottles
Once you have the pufferfish, you'll need to create water bottles. To do this, place three glass bottles in the crafting grid along with three water buckets. This will create three water bottles.
5. Brew the Potion
Place the brewing stand on the ground and add blaze powder to activate it. Place the water bottles in the bottom slot and add the nether wart to initiate the brewing process. After the brewing is complete, add the pufferfish to the top slot to brew the water breathing potion.
6. Use the Potion
Once the water breathing potion is brewed, it can be used by drinking it. When you drink the potion, it will provide you with the ability to breathe underwater for three minutes.
In conclusion, crafting a water breathing potion in Minecraft requires a few specific items and some knowledge of the brewing process. Once you get the hang of it, creating potions becomes a fun and exciting aspect of the game. With a water breathing potion in hand, you can explore the depths of the ocean and discover new wonders hidden beneath the waves.