How to Fix the Trusted Module Platform (TPM) Error in Windows 10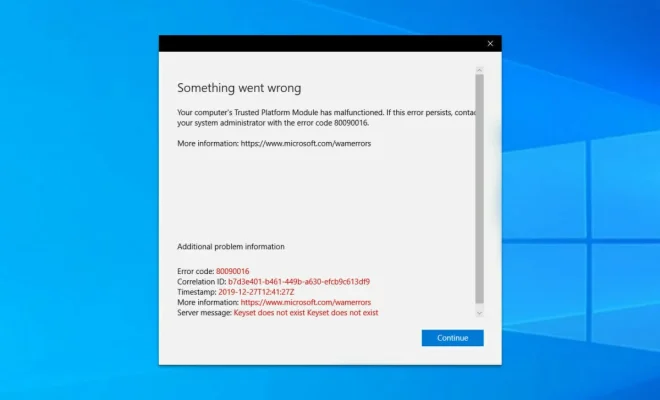 If you've encountered the Trusted Platform Module (TPM) error on your Windows 10 computer, you know how frustrating it can be. The TPM is a built-in security module that's designed to protect your computer from malicious attacks, but sometimes it can cause more harm than good. Fortunately, there are a few steps you can take to fix the issue and get your computer working properly again.
Before we dive into the specific steps, it's important to understand what TPM actually does. In simple terms, it's a hardware component that stores security information, such as encryption keys and passwords, in a secure manner. This makes it more difficult for hackers and other malicious actors to gain access to your sensitive data.
However, when TPM encounters an error, it can cause a range of issues, including blue screen of death (BSOD) errors or failure to boot properly. So, if you're experiencing any of these problems, here's what you can do to get your system back to normal:
1. Verify that TPM is Enabled
Before doing anything else, make sure that the TPM feature is enabled on your computer. To check this, follow these steps:
– Press the Windows key + R to open the Run dialog.
– Type 'tpm.msc' and click OK.
– If TPM is enabled, you should see a message that says 'The TPM is ready for use.'
If you see a different message, then TPM may be disabled or not functioning properly. In such case, check your PC documentation or contact your manufacturer to correctly configure TPM.
2. Update TPM Driver
If TPM is enabled and you still encounter the error, then perhaps the device driver is outdated or corrupted. To fix this issue, update the driver by following these steps:
– Press the Windows key + X and select Device Manager.
– Expand the Security devices category and right-click on the TPM device.
– Select Properties, then click on the Driver tab.
– Click Update Driver, and follow the prompts to install the latest one.
Don't forget to restart your computer for the changes to take effect.
3. Reboot Your Computer
Sometimes, the simplest solution is the best one. If you're experiencing TPM errors, try rebooting your computer to see if that clears up the problem. This can be especially effective if you're dealing with a minor glitch or temporary hiccup.
4. Clear TPM
If the above methods don't work, you can try clearing the TPM to reset any incorrect settings or data. Here's how to do it:
– Press the Windows key + R to open the Run dialog.
– Type 'tpm.msc' and press OK.
– Select Clear TPM from the options.
– Follow the prompts to clear TPM, and restart your computer afterward.
5. Check Your System for Malware
In some cases, TPM errors can be caused by malware or other malicious software. To rule out this possibility, run a full system scan using your preferred antivirus software. Windows Defender offers free basic security features and can also perform scans.