How to Download Songs on Spotify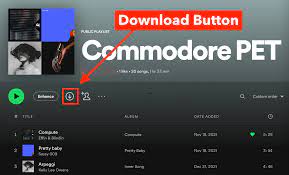 Spotify is one of the most popular music streaming platforms in the world, but did you know you can download songs on Spotify too? Downloading songs on Spotify allows you to listen to your favorite songs even when you're offline, or to save data while you're streaming.
Here's a step-by-step guide on how to download songs on Spotify:
Step 1: Open Spotify
Open Spotify on your desktop or mobile device, and log in to your account.
Step 2: Find the song you want to download
Find the song you want to download by searching for it in the search bar or browsing through the various genres and playlists on the home screen.
Step 3: Click on the Download button
Once you've found the song, click on the Download button next to the song title or the Download album button if you want to download a whole album.
Step 4: Wait for the download to finish
Spotify will start downloading the song or album to your device. The download time depends on the size of the file and your internet speed. You can see the progress of your download by clicking on the Download icon at the bottom of your screen.
Step 5: Access your downloads
Once your downloads are complete, you can access them by clicking on the "Your Library" option in the menu bar. From there, you can find your downloaded songs or albums under the "Downloads" section.
Step 6: Listen to your downloaded songs
Now that you've downloaded your favorite songs, you can listen to them offline by going to the "Downloads" section whenever you don't have an internet connection. Your downloaded songs will be available on all your devices, as long as you're signed in to your Spotify account.
Final Thoughts
Downloading songs on Spotify is a great way to enjoy your favorite music when you're on the go, without using up your mobile data. By following these simple steps, you can easily download your favorite songs and albums on Spotify and enjoy them anytime, anywhere.