How to Change Your Profile Picture on TikTok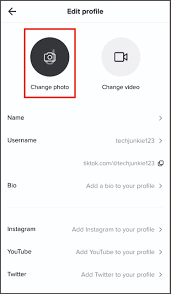 TikTok has completely taken over the world by storm, and it has become one of the most popular social media apps of our time. If you're a frequent user of the app, you may want to change your profile picture to something new and exciting. In this article, we'll show you how to take that next step and change your profile picture on TikTok.
Step 1: Open the TikTok app
First of all, you need to open the TikTok app on your device. Once you are in the app, tap on the "Profile" tab, which is located at the bottom right corner of your screen.
Step 2: Tap on your profile picture
After accessing your profile, you'll see your current profile picture on the left side of the screen, so go ahead and tap on it.
Step 3: Select "Change Profile Photo"
At the top of the screen, you'll see a small pencil icon; tap on it to access the "Change Profile Photo" option.
Step 4: Choose the photo you want to set as a profile picture
Once you tap on "Change Profile Photo," you'll see various options for selecting a new profile picture. You can either upload a photo from your device's camera roll or click a new one from your camera. You can also choose to preview your photos and select the one you like the most as your new profile picture.
Step 5: Adjust the profile photo to your liking
Once you've selected the photo, you can adjust the cropping by using the handles on the screen. Make sure the area you want to highlight is within the white border.
Step 6: Save your new profile photo
When you're happy with your new profile picture, tap on "Save" to ensure that your new profile photo has been set and is visible to all your followers.