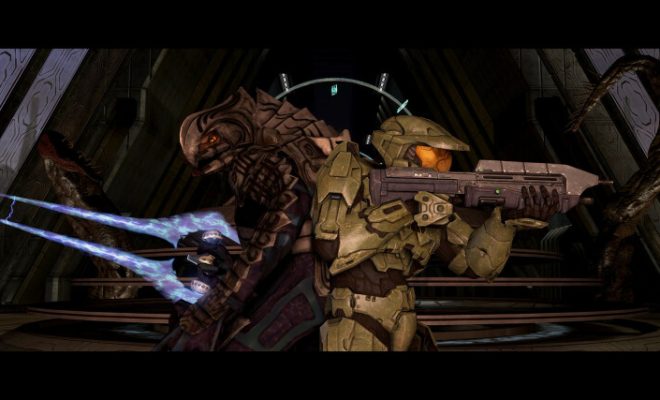 Halo 3, developed by Bungie and published by Microsoft, has always held a special place in the hearts of gamers across the globe. Originally released on Xbox 360 in 2007, this iconic title has now made its way to the PC platform in 2020 as part of the Master Chief Collection. With updated graphics, smoother gameplay, and newly added features – we delve into this PC version of Halo 3 to determine if it manages to keep up with present-day gaming standards, while still provoking nostalgic memories.
Graphics and Visuals
Even though it's been over a decade since its original release, Halo 3's visuals still manage to impress. The game's remastered version showcases vibrant colors, enhanced lighting effects, and more realistic textures, granting a fresh and modern look to this classic shooter. The level designs are already well-known for their expansive virtual worlds, giving players an unparalleled sense of freedom. This aspect is amplified thanks to improved draw distances and higher resolutions supported by the PC platform.
Gameplay
The core gameplay elements that made Halo 3 so popular remain intact in this latest release. Fast-paced action sequences, intuitive controls, strategic combat engagements, and the beloved arsenal of weapons return without missing a beat. The developers have done an excellent job optimizing the game for keyboard and mouse controls, making it easy for PC players to adjust to the new format without feeling alienated from their console counterparts.
Multiplayer
It wouldn't be a proper review without addressing Halo 3's multiplayer aspect – one of the primary reasons behind its enduring success. The game includes fan-favorite modes such as Team Deathmatch (Slayer), Capture the Flag (CTF), and King of the Hill among many others. Furthermore, online matchmaking is streamlined and user-friendly; finding games with other players is now easier than ever. Not to mention the PC version features cross-platform support, allowing for a larger and more diverse player base.
Campaign
For those who appreciate single-player campaigns, Halo 3 offers an immersive storyline filled with intense battles, set across a variety of picturesque environments. Players follow Master Chief and Cortana as they embark on a mission to save humanity from the Covenant's destructive ambitions and uncover secrets hidden within ancient Forerunner structures. The campaign mode also supports cooperative play, encouraging teamwork and providing infinite hours of entertainment.
Conclusion
Halo 3 on PC breathes new life into this timeless classic by introducing graphical enhancements, optimized gameplay, and an engaging multiplayer experience that can be enjoyed by a wider audience. The game already held a special place in gaming history, but its recent release on PC stands as a testament to its longevity and capacity to entertain even in today's highly competitive gaming landscape. Whether you're craving nostalgia or ready for your first taste of this iconic title, Halo 3 on PC promises endless action-packed excitement that will not disappoint.