Family-Friendly Stand-Up Comedy Specials to Watch on Netflix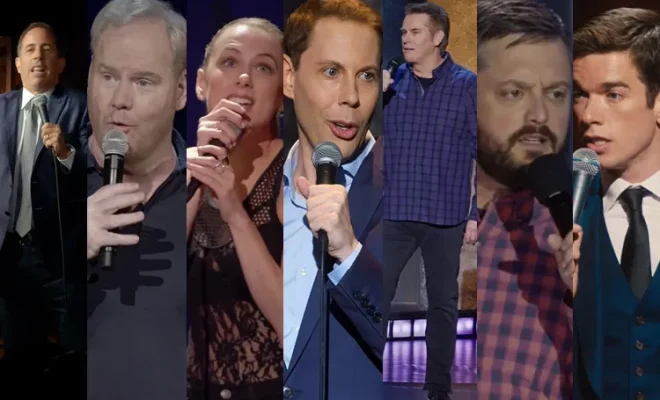 1. "Jim Gaffigan: Cinco" – In this hilarious special, comedian Jim Gaffigan talks about parenting, life, and of course, food.

2. "John Mulaney: Kid Gorgeous at Radio City" – John Mulaney delivers his trademark witty and smart brand of humor in this special shot at the iconic Radio City Music Hall.

3. "Ali Wong: Baby Cobra" – Watch Ali Wong perform her raunchy and relatable stand-up about pregnancy, relationships, and being a woman in comedy.

4. "Hannah Gadsby: Nanette" – Australian comedian Hannah Gadsby delivers a powerful and groundbreaking comedy special that challenges traditional expectations of comedy by addressing heavy topics such as misogyny, homophobia, and trauma.

5. "Bill Burr: Paper Tiger" – Bill Burr's latest special takes on outrage culture, political correctness, and the dangers of being too woke.

6. "Iliza Shlesinger: Elder Millennial" – Iliza Shlesinger takes on turning 35, marriage, and the struggle of being an elder millennial in this hilarious and relatable stand-up.

7. "Trevor Noah: Son of Patricia" – The Daily Show host and comedian Trevor Noah shares his hilarious and insightful perspective on growing up in South Africa, being biracial, and the difficulties of American politics.

8. "Pete Davidson: Alive From New York" – In this intimate and raw special, SNL's Pete Davidson talks about his personal struggles with mental health, relationships, and fame.

9. "Tom Segura: Mostly Stories" – Tom Segura delivers his trademark observational humor in this special that covers topics ranging from parenting, traveling, and sex.

10. "Mike Birbiglia: The New One" – Mike Birbiglia's latest special is a charming and heartfelt performance about fatherhood, marriage, and life transitions.