Corsair Xeneon 27QHD240 OLED Review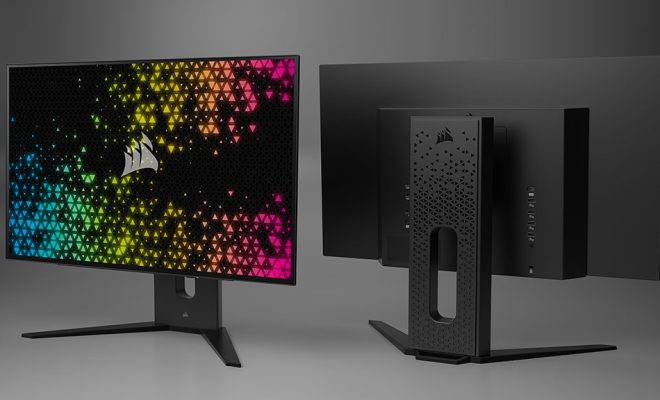 Corsair has long been known for producing top-quality gaming peripherals and components. With the Xeneon 27QHD240, they've introduced their latest offer in the gaming monitor market. This innovative OLED display promises high performance and remarkable visuals. In this review, we will dive into the features of the Corsair Xeneon 27QHD240 OLED monitor and evaluate whether it lives up to its hype.
Design & Build Quality
The Corsair Xeneon 27QHD240 boasts a sleek design that features ultra-thin bezels, offering a nearly borderless experience. The monitor's all-black chassis provides a clean, minimalist look suitable for any gaming setup. With its sturdy metal stand and adjustable height, the Xeneon 27QHD240 proves both visually appealing and ergonomically versatile.
Display & Performance
At its core, the Xeneon 27QHD240 features a stunning 27-inch OLED panel with a resolution of 2560×1440 (QHD), ensuring excellent visual fidelity. Gaming enthusiasts are treated to a refresh rate of 240Hz, allowing for ultra-smooth and responsive gameplay.
The use of OLED technology in the Xeneon 27QHD240's display ensures deep black levels and vibrant colors – providing a true-to-life visual experience for gamers and content creators alike. The monitor also supports HDR10 content with its impressive contrast ratio and color accuracy.
Connectivity & Additional Features
The Corsair Xeneon 27QHD240 offers an array of connectivity options suitable for modern gaming setups. It includes two HDMI ports, DisplayPort, USB Type-C, and four USB-A downstream ports. Additionally, the monitor features integrated speakers for those who prefer not to use headphones or external speakers.
Gamers will appreciate on-screen display settings available via an intuitive joystick located at the bottom right of the bezel. This tool allows users to switch between various gaming profiles or adjust specific settings with ease.
Price & Conclusion
Priced competitively in the high-end gaming monitor market, the Corsair Xeneon 27QHD240 OLED monitor is an outstanding option for those seeking top-tier performance and outstanding visuals. Its sleek design, flawless OLED display, and array of connectivity options make it a worthwhile addition to any gaming setup.
As with any piece of high-quality gaming equipment, the price tag may be a concern for some. However, given its unique combination of features and performance, the Corsair Xeneon 27QHD240 is a worthy investment for those who demand top-notch visuals and smooth gameplay.