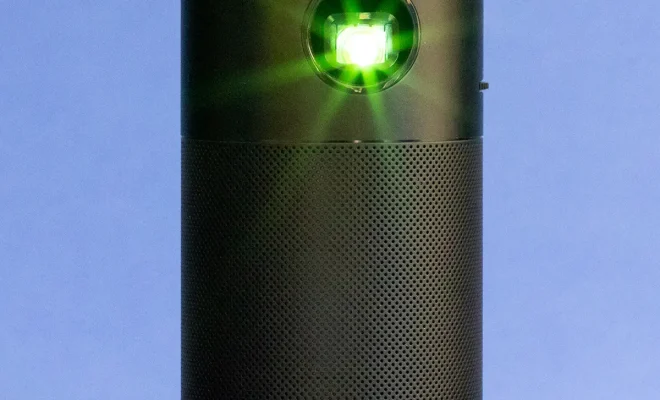 As technology evolves, the need for portable gadgets is seriously increasing. Among these gadgets, portable projectors rank among the top. If you are looking for an excellent portable projector to use for your next presentation, movie night, or photo slideshow, we've got you covered with the best options in the market.
1. LG PH550 – This portable projector is ideal for those who desire a compact and easy-to-use projector. The LG PH550 offers a 720p HD resolution and an LED lamp that delivers up to 550 lumens of brightness. The projector can be controlled through Wifi or Miracast and comes equipped with HDMI ports, a USB input, and a built-in speaker.
2. ViewSonic M1 – The ViewSonic M1 is another compact and lightweight option. The projector projects a 1080p image with up to 300 Lumens, making it ideal for home entertainment or business presentations. The projector also includes a built-in battery that lasts up to six hours, a USB Type-C charging port, and an integrated JBL speaker.
3. Anker Nebula Capsule – The Anker Nebula Capsule is perhaps the best option for portability. Its sleek and small design makes it perfect for on-the-go use. The projector offers an excellent 360-degree sound experience and projects a 100-inch image with a resolution of 854×480. It also includes a built-in rechargeable battery that lasts up to four hours.
4. Epson VS250 – The Epson VS250 is an affordable and effective portable projector. It provides a high-quality image and a brightness output of 3200 lumens that makes it ideal for conference rooms, classrooms, and even outdoor movie nights. The projector also features an HDMI port and a built-in speaker.
5. Optoma ML750ST – The Optoma ML750ST is a short-throw projector designed to produce big images in small spaces. This portable projector features a 700 Ansi lumens output and a native resolution of 1280×800. The ML750ST also includes an HDMI port, USB, and a 3.5 mm audio jack.
In conclusion, portable projectors are becoming increasingly popular due to their versatility, and they are ideal for home entertainment or business presentations. With any of the above portable projectors, you will get an excellent image quality, portability, and unique features that will make your presentation or movie night stand out.