Best Grocery Store Price Comparison Apps of 2023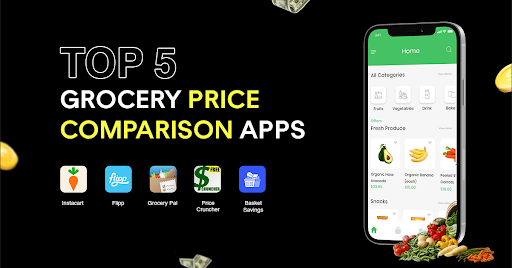 As we move into 2023, the grocery shopping experience is becoming more digital and technology-driven than ever before. One key aspect of this shift is the proliferation of grocery store price comparison apps. These apps arm shoppers with the power to compare prices across different stores and find the best deals, saving them time and money in the process.
Here are the top grocery store price comparison apps of 2023:
1. Flipp
Flipp offers users access to weekly ad circulars and coupons from over 2,000 stores across North America. The app allows you to browse flyers for stores in your area, add items of interest to your shopping list, and even receive notifications when items on your list go on sale. Flipp's user-friendly interface and real-time pricing make it a popular choice for savvy shoppers looking to save money.
2. ShopSavvy
ShopSavvy is a price comparison app that allows users to scan barcodes and compare prices across a range of retailers. The app also provides product details and reviews, as well as a "price history" graph that shows how the price of an item has fluctuated over time. ShopSavvy's comprehensive database and user-friendly interface make it a go-to app for price-conscious shoppers.
3. Grocery Pal
Grocery Pal allows users to create a shopping list, search for deals, and compare prices at multiple retailers. The app also includes a "Top Picks" feature that highlights the best deals of the week. With Grocery Pal, you can stay organized while saving money and time by seeing all the sales in one place.
4. Basket
Basket is designed to simplify the grocery shopping experience by allowing users to search for products and compare prices across multiple stores at once. The app also includes a "My List" feature that keeps track of your shopping list and suggests relevant coupons, deals, and discounts. Basket is a popular app for those looking to save time and money on their grocery shopping.
5. MySupermarket
MySupermarket is one of the largest grocery price comparison sites in the UK. The app allows you to compare prices across multiple retailers, including Aldi, Asda, Morrisons, Sainsbury's, and Tesco. The app also offers product reviews and storage advice, as well as a "swap and save" feature that suggests cheaper alternatives for existing items on your shopping list.
As grocery store price comparison apps become more prevalent and sophisticated, shoppers are taking advantage of the convenience and savings that they provide. Whether you're looking for deals on groceries or want to streamline your shopping experience, these five apps are among the best options available in 2023.