Best Apps for iOS & Android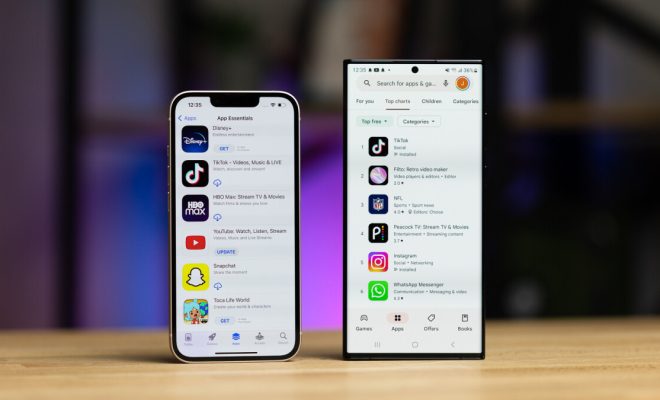 As smartphones have become a ubiquitous part of our daily lives, the usage of mobile applications has skyrocketed. The ever-growing app market for both iOS and Android provides a plethora of apps that can make our lives easier and more enjoyable. Let's take a look at some of the best apps for iOS and Android that you can use in 2021.
1. TikTok
TikTok has taken the world by storm, and it's not hard to see why. This app allows users to create short, creative videos using stickers, filters, and music. It has become a great platform for anyone looking to showcase their creativity and make connections. You can find everything from humorous clips to dance routines, and there's always something new to discover.
2. Google Maps
Google Maps is one of the most popular navigation apps in the world, and with good reason. It provides real-time navigation, traffic updates, and street views for both drivers and pedestrians. You can even save your favorite locations or create custom routes, making it a staple for daily commutes or road trips.
3. Headspace
Headspace is a meditation app that provides a range of guided meditations for different goals and needs. Whether you're looking to reduce stress, improve focus, or get better sleep, Headspace has a course or session for you. Subscriptions unlock access to additional content, but the free content is already a great way to introduce mindfulness into your daily routine.
4. Grammarly
As technology has consumed our lives, we can't avoid sending emails or texts. And, it's very important to have the correct spellings and grammar in these messages. Grammarly has become a popular app that checks spelling and grammar for emails, SMS messages, and social media posts. With a paid subscription, users can also access more advanced features like punctuation suggestions and suggestions for better word choices.
5. MyFitnessPal
Fitness enthusiasts and health-conscious people around the world use MyFitnessPal to track their calorie intake and exercise routines. The app has a database of over 6 million foods and provides a range of healthy recipes for users to follow. MyFitnessPal has become a staple for people looking to make lifelong changes to their health and fitness habits.
6. Duolingo
Duolingo is an app designed to help users learn a new language with ease. The app offers a variety of lessons and activities for all levels of proficiency, from beginner to advanced. It offers lessons in multiple languages, including Spanish, French, German, and Mandarin, to name a few. The app's interface is also user-friendly, with a mix of flashcards, quizzes, and games that make learning a new language enjoyable.
7. Spotify
Arguably the most popular music streaming app in the world, Spotify has a vast music library that provides access to millions of songs, podcasts, and even audiobooks. Spotify also suggests personalized playlists, which offer some of the best music recommendations. Besides, you can use it for free and with a subscription, enjoying ad-free listening.
8. Microsoft Office
Microsoft Office has become synonymous with document creation and editing. With this app, you can create and edit files such as documents, spreadsheets, and presentations. You can easily store, share and collaborate with others on these documents. This application is a great tool for those who need to work on-the-go.
In conclusion, these are some of the best apps available on both iOS and Android to improve productivity, entertainment, and overall wellbeing. Try them out and discover how they can make your life easier, more productive, and enjoyable!