Audio-Technica LP120-USB review: An all-in-one turntable that digitizes your vinyl collection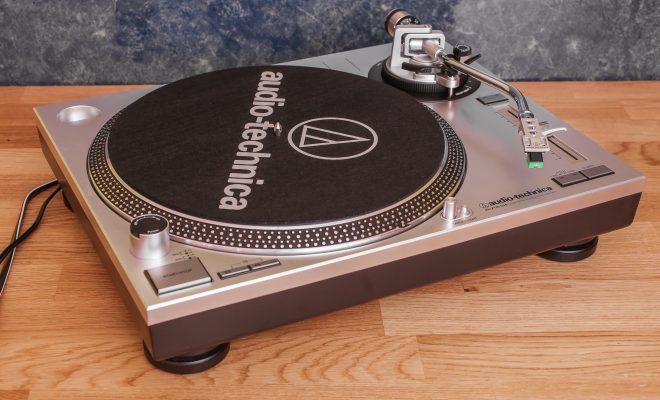 The Audio-Technica LP120-USB is a fully manual professional turntable designed for vinyl enthusiasts who wish to take their analog listening experience to the next level whilst preserving it digitally for the future. It boasts several alluring features that not only ensure optimal playback quality, but also allow seamless conversion of your favorite LPs into digital format.
Start with the build quality: The chassis of the LP120-USB is of high-quality components that gives it a sturdy look. Its die-cast aluminum platter offers precision and stability in tracking, a critical facet in optimizing audio playback. Furthermore, it showcases a beautiful design: sleek and modern yet nostalgic, making it a perfect centerpiece for any audio setup.
The primary feature of the turntable is its USB functionality. Easy-to-use software, such as Audacity, allows simple conversion of LP records into MP3 or WAV files. With its built-in switchable phono pre-amp, you can connect the turntable directly to your computer – no expensive sound card required.
Sound quality is where the LP120-USB truly shines. It delivers exceptionally clear sound that's impeccably balanced and impressively detailed. The direct-drive motor has high-torque fitted with anti-resonance which prevents unwanted vibrations from affecting sound clarity.
One impressive aspect of this turntable is its versatility. The device supports 33 1/3, 45, and 78 RPM playback speeds and is equipped with an adjustable dynamic anti-skate control system ensuring every groove of your vinyl is tracked with precision.
However, one area where Audio-Technica could improve is the bundled caster tonearm: it's quite basic when compared to some rivals at this price range. Nevertheless, it performs reliably enough for most users.
With these features combined, the Audio-Technica LP120-USB represents an excellent balance between modernity and tradition while digitizing your vinyl collection. This turntable has serious credentials that appeal to both audiophiles seeking superior sound quality as well as newcomers who wish to step into the world of vinyl.
In conclusion, if you're looking for an all-in-one solution to listen to your favorite records while also being able to digitize them effortlessly without compromising on sound quality or high-end features, then the Audio-Technica LP120-USB could be just what you need. A few minor improvements could be made but they do not detract from this solid choice in its price bracket. It comes very highly recommended.