Abortion Laws by State: Where Has Abortion Been Banned?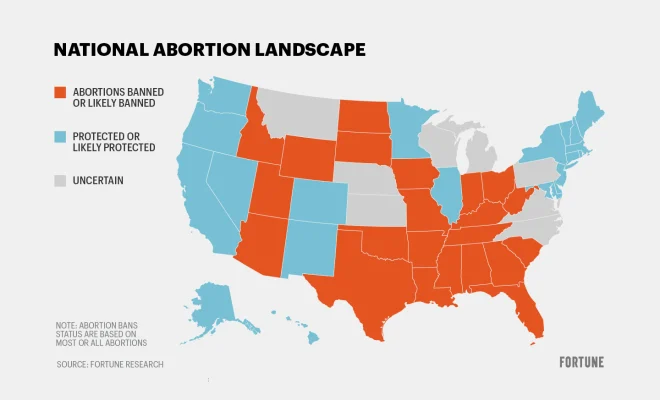 Abortion laws in the United States have been a polarizing topic, with states implementing varied restrictions based on differing public and political perspectives. The landmark Roe v. Wade Supreme Court case in 1973 legalized abortion nationwide. However, many states have since enacted their own laws which range from liberal access to strict limits, including total bans.
Alabama: The state passed a near-total ban on abortion in 2019, making it the strictest law in the country. This legislation, known as the Alabama Human Life Protection Act, effectively bans abortions at every stage of pregnancy but includes caveats for serious health risks to the mother.
Arkansas: Signed into law in March 2021, a total ban on abortions has been enacted in this state. Exceptions are only made when the life of the mother is directly at risk; no exceptions are provided for cases of rape or incest.
Mississippi: This state has a gestational age act that prohibits abortions after 15 weeks of pregnancy except in medical emergencies or severe fetal abnormality. Various legal challenges have kept this law from being fully enacted so far.
Missouri: Missouri passed an 8-week abortion ban in 2019, which does not include exceptions for cases of rape or incest.
Ohio, Georgia, Kentucky, Louisiana and Mississippi: These states have enacted "heartbeat bills", that seek to prohibit abortions when doctors can detect a fetal heartbeat, which usually occurs around six weeks into pregnancy. Many women are unaware they're pregnant at this stage.
South Carolina: In early 2021, South Carolina passed a similar "heartbeat" law banning most abortions after a fetal heartbeat is detected.
It's important to note most of these laws are either facing court injunctions or are pending litigation due to their conflict with established precedent set by Roe v. Wade. The future of these laws depends on ensuing legal battles and potential future Supreme Court rulings. For those seeking an abortion, it's advised to check local laws or consult with an appropriate healthcare provider for the most accurate information.
Abortion rights remain a contentious issue in the United States with strong advocates on both ends of the spectrum. Laws can change rapidly depending upon political power shifts at the state level. This creates an unclear landscape that necessitates constant vigilance by stakeholders invested in both sides of this often heated debate.