7 Signs of an Iron Deficiency and How to Get Enough Iron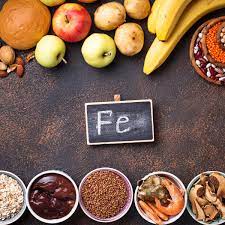 Iron is an essential mineral that plays a vital role in our body's overall functioning. A deficiency in iron can lead to several health issues. Here are seven signs of an iron deficiency and advice on how to ensure you get enough of this crucial nutrient.
1. Fatigue: One of the most common signs of iron deficiency is persistent fatigue, as iron plays a key role in producing hemoglobin, which helps transport oxygen throughout the body.
2. Pale skin: When you're low on iron, your body may not produce enough hemoglobin leading to pale skin.
3. Shortness of breath: Iron-deficient individuals often experience shortness of breath, even during routine activities such as climbing stairs or walking short distances.
4. Frequent infections: A lack of iron can weaken the immune system, leading to frequent infections or slow recovery from illnesses.
5. Brittle nails: Insufficient iron can cause nails to become brittle, thin, and easily breakable.
6. Restless leg syndrome: People with iron deficiency are more likely to experience restless leg syndrome – an uncomfortable sensation leading to uncontrollable urges to move one's legs.
7. Swollen tongue: In some cases, iron deficiency can lead to painful swelling and inflammation of the tongue.
To prevent or address an iron deficiency, here are some ways to ensure you get enough iron:
1. Include iron-rich foods in your diet: Foods high in heme iron (from animal sources) such as red meat, poultry, and fish are better absorbed by the body than non-heme iron (from plant sources) found in beans, lentils, spinach, and fortified cereals.
2. Enhance absorption with Vitamin C: Consuming vitamin C-rich foods like citrus fruits, tomatoes, and peppers alongside your iron-rich meals can help increase absorption.
3. Avoid inhibitors: Some substances like calcium, tannins (found in tea and coffee), and phytates (found in whole grains and legumes) can inhibit the absorption of iron. Be mindful of consuming these substances around the time of your iron-rich meals.
4. Iron supplements: If you struggle to get enough iron from your diet alone, it may be necessary to take iron supplements. Consult with a healthcare professional before starting any supplementation regimen.
5. Regular check-ups: Monitor your iron levels by scheduling regular check-ups with your healthcare provider.
By being aware of the signs of an iron deficiency and making a conscious effort to maintain adequate levels, you can ensure healthier overall bodily function and well-being.