What's the Solar Panel Installation Timeline from Purchase to Power?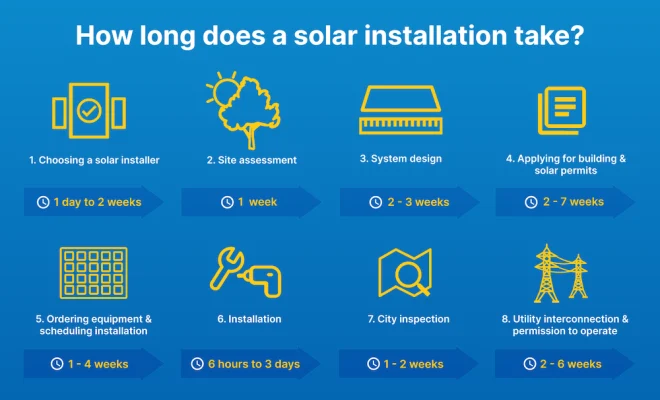 Introduction
The shift towards clean and renewable energy sources has led to an increased demand for solar panel installations. Homeowners and businesses are eager to reduce their electricity bills while having a minimal impact on the environment. But, what does the solar panel installation timeline look like from purchase to power? In this article, we explore each step involved, so you know what to expect when choosing solar energy.
1. Research and Planning – 2 to 4 weeks
Before diving into solar panel installation, thorough research and planning is essential. During this phase, determine your energy needs, explore various solar panel options, examine local permits, and find a reliable solar installation company. This process might take a couple of weeks, but investing time upfront will ensure a smooth installation process later on.
2. Site Survey and Design – 1 to 2 weeks
Once you have identified a potential installer, they will conduct a site survey assessing your property's suitability for solar panels. The survey includes evaluating factors such as roof structure, shading issues, and wiring requirements. Upon completion of the site survey, the installer will develop a customized design for your project. This process usually takes one to two weeks.
3. Permitting – 2 to 4 weeks
Before the installation can begin, you'll need permits and approval from local authorities. Your installer should handle permit applications on your behalf, but be aware that the process can take up to four weeks due to municipal processing times.
4. Procurement of Equipment – 1 to 2 weeks
With permit approvals in hand, your installer orders the necessary equipment such as solar panels, inverters, mounting systems, and electrical components. Depending on the manufacturer's lead time and logistics constraints, this phase typically takes between one to two weeks.
5. Installation – 1 week
Once all equipment is procured and ready for installation, the solar panel installation process begins. A typical residential installation takes about one week, though commercial installations can take longer. The actual time needed depends on factors such as project size, site complexity, and weather conditions.
6. Inspection and Interconnection – 1 to 2 weeks
After the installation is complete, your system undergoes inspection to ensure compliance with local codes and regulations. This may include an electrical inspection and utility inspection. Upon passing the inspections, your solar system is interconnected to the grid. The timeline for interconnection varies depending on utility company processes but usually takes one to two weeks.
7. Monitoring and Maintenance – Ongoing
With your solar panels now producing power, it's essential to monitor their performance closely and schedule regular maintenance checks. Many solar installation companies provide monitoring services that inform you of your system's power generation and overall efficiency.
Conclusion
The solar panel installation timeline from purchase to power can range from eight to 16 weeks on average, depending on various factors like permitting times, equipment procurement, and installation complexities. However, this investment in renewable energy pays off in the long run through reduced energy bills and a smaller carbon footprint.
By understanding each step involved in the solar panel installation process, you can better prepare yourself for a seamless transition towards sustainable energy in your home or business.