What Is the Ethereum 2.0 Merge? Is the Ethereum Merge Complete?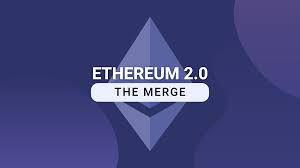 Ethereum is one of the most widely used and popular blockchain networks in the world. It is currently in the process of transitioning from its 1.0 version to the updated Ethereum 2.0 network. The Ethereum 2.0 merge is a major upgrade that has been in the works for several years. In this article, we will look at what the Ethereum 2.0 merge is and whether it is complete.
What is the Ethereum 2.0 Merge?
The Ethereum 2.0 merge is a significant upgrade to the existing Ethereum blockchain network. It involves moving away from the current proof-of-work (PoW) consensus protocol and replacing it with the more efficient proof-of-stake (PoS) consensus algorithm. The PoS algorithm is designed to reduce the amount of energy consumed by the network and ease the congestion problems facing the current Ethereum system.
In addition to the shift to PoS, the Ethereum 2.0 merge also involves a number of other improvements, including better security, improved scalability, and increased transaction speed. The ultimate goal of the merge is to make the Ethereum network more robust and efficient, while also reducing its environmental footprint.
Is the Ethereum Merge Complete?
As of August 2021, the Ethereum 2.0 merge is not yet complete. The initial launch of Ethereum 2.0 occurred in December 2020 but involved only the launch of the network's beacon chain. This beacon chain serves as the backbone for the new PoS system and allows for the staking of Ethereum tokens.
The next step is the activation of the Ethereum 2.0 mainnet, which will involve integrating the beacon chain with the existing Ethereum 1.0 blockchain. This will allow for full interoperability between the two networks, allowing transactions to be made between them. Once this is complete, the new PoS consensus algorithm will take over from PoW.
While there is no exact timeline for the completion of the Ethereum 2.0 merge, there have been significant strides made in recent months towards achieving this goal. The Ethereum development team has been working hard on building out the infrastructure necessary for the merge, while also conducting extensive testing to ensure that the new system will operate at peak performance.