What is Optical Mark Recognition (OMR)?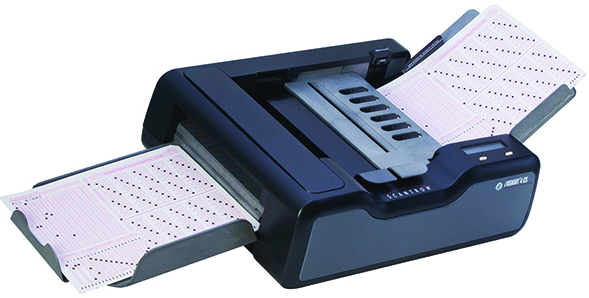 Optical Mark Recognition (OMR) is a technology that automates the data capture process from a paper-based form. OMR technology utilizes the principles of light reflection and absorption to read and capture data from a scanned form. It is widely used in data capturing applications, such as survey forms, questionnaires, and exams.
OMR systems consist of software and hardware components. The hardware component includes a scanner, which consists of a light source, lenses, and sensors. The software component is responsible for analyzing the data captured by the scanner.
OMR technology is capable of reading specific types of marks called "bubbles," "ticks," and "slashes" that represent a response to a question. These marks can be pre-printed on the form or added by the respondent using a pen or pencil. The scanner detects and reads the marks by measuring the reflection and absorption of light, converting the data into digital format, and storing it in a computer file.
One of the benefits of OMR technology is its ability to recognize multiple-choice, checkbox, and Likert scale questions. OMR technology can also handle other types of data capture such as barcodes, and OMR technology is highly efficient when dealing with large amounts of data.
Businesses, government agencies, and educational institutions utilize OMR technology to automate their data capture processes. OMR technology is widely used in a variety of industries, including healthcare, finance, education, and government.
In conclusion, Optical Mark Recognition is an innovative technology that automates data capture processes from a paper-based form. It has revolutionized the way businesses operate by reducing the time required to process data, offering a higher level of accuracy, and reducing the need for manual data entry. With the ever-increasing volume of data to be captured and processed, OMR technology will continue to play a vital role in helping organizations improve their efficiency and streamline their operations.