USB-C vs. Micro USB: What's the Difference?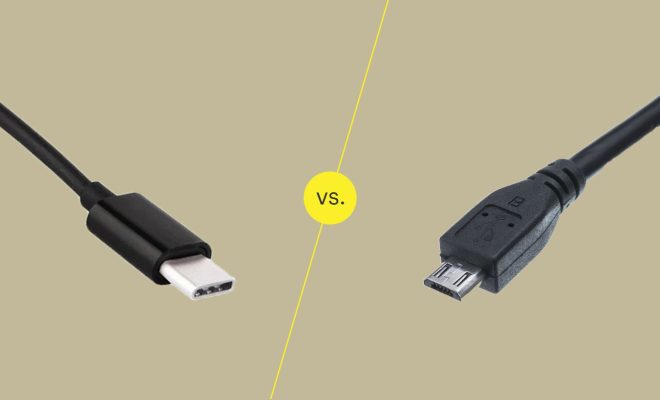 In this digital age, the need to connect devices to each other has become an essential aspect of our daily routine. This connection allows us to transfer data, charge our devices, and even share power between compatible devices. For this purpose, various USB connectors have been developed, among which are the USB-C and Micro USB. In this article, we'll take a look at the differences between these two USB connectors.
USB-C is the latest addition to the USB connectors family. It was introduced in 2014 and has since then become increasingly popular. One of the significant advantages of USB-C is its reversible design, which means it can be plugged into a device in any orientation. This feature eliminates the frustration of trying to plug in the connector upside down, which was a common issue with other USB connectors.
On the other hand, Micro USB is a connector that has been around for several years. It is an industry standard connector that can be found on many smartphones, tablets, and even some laptops. Unlike USB-C, the Micro USB connector is not reversible, meaning you have to carefully align it with the port while plugging in.
In terms of data transfer speed, USB-C is considered faster than Micro USB. USB-C can deliver data transfer speeds of up to 10Gbps, while the Micro USB is limited to 480Mbps. This speed difference makes USB-C a more attractive choice for transferring large files, such as HD videos or high-resolution images.
When it comes to charging, USB-C has the advantage of delivering more power. It can provide up to 100W of power, which is enough to charge laptops, tablets, and even some small appliances. Micro USB, on the other hand, is limited to delivering 15W of power, which is sufficient for charging smartphones and other small devices.
Another major difference between USB-C and Micro USB is the cable design. USB-C cables have a reversible connector on both ends, making them more versatile than Micro USB cables. Additionally, USB-C cables are thicker than Micro USB cables, which makes them more durable and less prone to damage.
In conclusion, USB-C and Micro USB have their strengths and weaknesses, and the choice between the two depends on your needs. If you're looking for faster data transfer speeds, more power delivery, and a more durable cable design, USB-C is the way to go. However, if you're okay with slower data transfer speeds and limited power delivery, Micro USB can still get the job done.