TP-Link Deco XE75 Wi-Fi 6E Mesh Router Review: A Strong Contender for Home Connectivity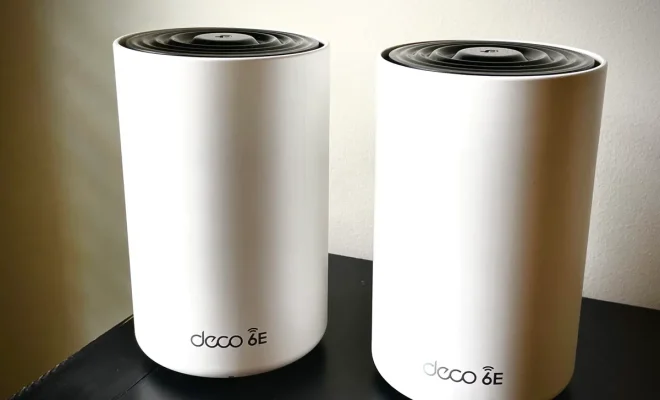 Introduction:
The TP-Link Deco XE75 Wi-Fi 6E mesh router has garnered notable attention in the home internet market recently. With Wi-Fi 6E technology offering faster speed, reduced interference, and enhanced reliability, it's no wonder that consumers are looking to upgrade their home networks. In this article, we will delve into the features, performance, and pricing of this cutting-edge mesh router.
Features:
The TP-Link Deco XE75 offers a range of attractive features that set it apart from its competitors. It supports the latest Wi-Fi 6E standard, boasting uninterrupted and simultaneous data transmission across multiple devices. Key features include:
1. Tri-band technology: Apart from the standard 2.4GHz and 5GHz bands, the Deco XE75 offers an additional 6GHz band for high-performance devices.
2. Seamless roaming: Users can move about their home without experiencing connection drops, as the Deco units work together to form a unified network.
3. Parental controls: Advanced parental controls provide customizable profiles for children's devices, allowing content filtering and time limits.
4. Easy setup: The intuitive Deco app guides users through installation and setup with its step-by-step process.
Performance:
The TP-Link Deco XE75 demonstrates impressive performance in comparison to its rivals when it comes to speed and coverage. Users have reported noticeably faster connections in even the most challenging areas of their homes, with the system maintaining a strong signal across multiple floors and through thick walls. Moreover, the system automatically optimizes its performance with adaptive routing to ensure that each device operates at peak capacity.
Pricing:
Priced competitively in the market, the TP-Link Deco XE75 provides excellent value for money considering its advanced features and powerful performance. While it might be more expensive than some basic router models, the investment in a Wi-Fi 6E mesh system is expected to provide
significant improvements in speed, coverage, and overall connectivity.
Conclusion:
The TP-Link Deco XE75 Wi-Fi 6E mesh router offers a stellar combination of advanced features, impressive performance, and competitive pricing. It's an ideal choice for those seeking to enhance their home network or simply upgrade to the powerful Wi-Fi 6E standard. With user-friendly setup and maintenance, the Deco XE75 is a strong contender in today's home internet market.