The Millau Viaduct, the world's tallest bridge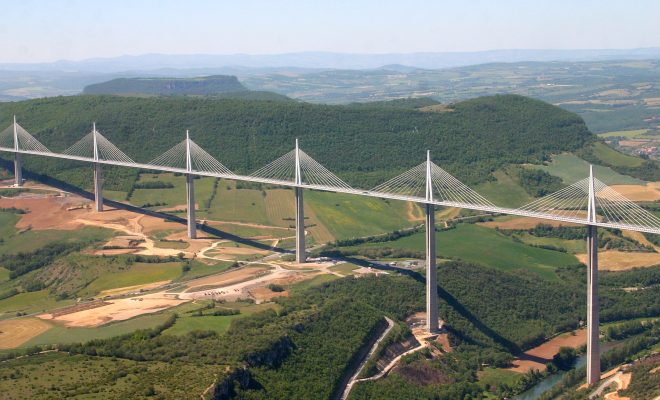 A testament to human engineering and sheer ambition, the Millau Viaduct in France stands as the world's tallest bridge, capturing the awe and imagination of both engineers and travelers alike. Officially inaugurated in December 2004, this marvel of modern architecture defies gravity, reaching a staggering height of 343 meters (1,125 feet) at its tallest point – even taller than the iconic Eiffel Tower.
An Essential Connection
The Millau Viaduct was specifically designed to alleviate traffic congestion on the heavily traveled route between Paris and Barcelona, spanning across the picturesque Tarn River valley. The bridge is an essential part of the A75 motorway, providing a direct connection between Clermont-Ferrand and Béziers. Consequently, it has become a vital economic lifeline and played a pivotal role in the development of trade and tourism in southern France.
Architectural Masterpiece
The brains behind this extraordinary feat of engineering are none other than British architect Lord Norman Foster and French structural engineer Dr. Michel Virlogeux. Their combined efforts resulted in not just a functional transport solution but also an elegant masterpiece that complements the natural beauty of its surroundings.
The Millau Viaduct consists of eight cable-stayed spans supported by seven colossal concrete pylons, which have been deliberately positioned to minimize environmental impact on the valley below. The curvature of its slender road deck is carefully calculated to provide drivers with optimal visibility while traversing this sky-high journey.
Economic Implications
The construction of the Millau Viaduct was made possible through a public-private partnership between the French government and private firm Eiffage Group. With an estimated cost of €400 million, this infrastructure project became one of Europe's largest investments in recent times. Moreover, it has managed to recoup its investment through toll revenues – an exemplar model for the financing of large-scale public infrastructure projects.
In addition to economic benefits, the Millau Viaduct has also become a major tourist attraction, drawing thousands of visitors annually who come to marvel at its grandeur and appreciate its outstanding panoramic views. The local economy has greatly benefited from this influx of tourism, evident through the rise in demand for accommodation, restaurants, and souvenir shops in the area.
Conclusion
The Millau Viaduct is not only an architectural masterpiece but also a prominent symbol of human ambition and ingenuity in the field of engineering. The world's tallest bridge effortlessly merges function and aesthetics, making it an inspiration for future generations. As we continue to push boundaries and explore new frontiers of design and technology, the Millau Viaduct will undoubtedly remain a timeless reminder of what can be achieved when we aim high.