Technical Skills You Should Master as a Graphic Designer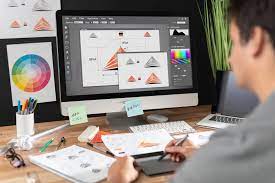 As a graphic designer, the technology you use is an essential aspect of your work. Keeping up-to-date with technical skills is crucial to ensure efficiency, maintain relevance, and be competitive in the industry. Mastering the following technical skills will set you apart as a skilled graphic designer.
1. Adobe Creative Suite

Adobe Creative Suite consists of multiple software including Photoshop, Illustrator, InDesign, and Premiere Pro. As a graphic designer, the most important software you need to master is Photoshop and Illustrator. You will use these programs for photo editing, creating logos, and designing posters, among other things. Knowing how to effectively use these programs can help you create stunning visuals and maintain consistency in your work.
2. Responsive Web Design
With the rise of smartphones and tablets, web design is no longer limited to desktop computers. Responsive web design ensures your website looks visually appealing and is functional across different platforms. By understanding HTML, CSS, and JavaScript, you can create websites that adapt to different screen sizes, resulting in a better user experience.
3. User Experience Design
User experience design (UX) is the process of designing products or services that are easy to use and provide an enjoyable experience for the user. As a graphic designer, you need to know how to create user-friendly designs – from choosing the right colors and typography to designing intuitive interfaces. Knowing how to create UX designs can make your work stand out and ultimately help you land more job opportunities.
4. Motion Graphics

Motion graphics are videos that combine animated text and graphics to create visually engaging content. With the rise of social media and video platforms such as Instagram, TikTok, and YouTube, knowing how to create motion graphics can make your work more versatile and appealing. You can use software such as After Effects to create eye-catching animations that can capture the attention of viewers.
5. Print Production

Print production is the process of preparing digital artwork for printing – from selecting the right paper stock to preparing files for print. Knowing how to produce high-quality prints is crucial if you work in fields such as packaging design, print advertising, and creating brochures. Knowledge of print production also helps you understand file formats, color modes, and printing techniques for different projects.
In conclusion, mastering these technical skills as a graphic designer can set you apart and provide you with a competitive edge in the industry. By continuously learning and adapting to evolving technology, you can enhance your skills and deliver high-quality work to clients.