Returning an Amazon Package Made Easy: A Guide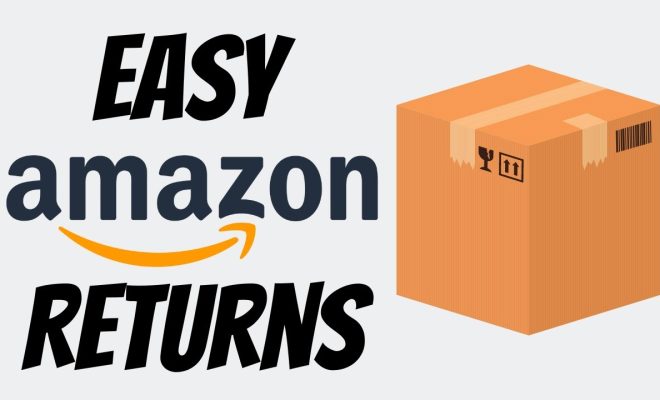 Introduction:
There's no denying the ease and convenience of Amazon's vast online marketplace. However, it's not uncommon to encounter a situation where you need to return an item due to incorrect sizing, functionality, or personal preference. Thankfully, Amazon has made their return process fairly simple and user-friendly.
In this article, we'll walk you through the steps on how to return an Amazon package seamlessly.
Step 1: Locate Your Order:
First and foremost, head over to Amazon's website and log into your account. Navigate to the "Orders" tab, where you will find a list of recent purchases. To proceed with a return, locate the specific item in question and click on "Return or Replace Items."
Step 2: Select a Reason for Return:
Before initiating the return process, it's crucial to identify why you are returning the item. Explain your reasoning by selecting one of the given options provided in the dropdown menu. This information will help both Amazon and the seller improve their services.
Step 3: Choose a Return Method:
Once you've presented your motivation for returning the purchase, select your preferred method of return from among Amazon's available choices:
– USPS or UPS Dropoff
– Amazon Locker Dropoff
– Scheduled Pick-up (If available)
Each option comes with specific instructions that you'll need to follow in order to complete your return successfully.
Step 4: Print Your Return Label:
After identifying your chosen return method, print out the corresponding shipping label provided by Amazon. You'll need this label if you're returning your package via post office drop-off or an
Amazon Locker Dropoff point.
Step 5: Package Your Return:
Now that your shipping label is printed out, pack up your item securely and attach the return label to the outside of the box. Ensure that all original packaging materials are included if possible.
Step 6: Send Your Return:
Depending on the return method you chose, you will now need to send the package back to Amazon. If returning via USPS or UPS, simply drop off your boxed-up package at the respective location. For Amazon Locker Dropoffs, follow detailed instructions provided with the printed shipping label. If a scheduled pick-up is available, wait for a shipping carrier to arrive and collect your packaged return.
Conclusion:
Returning an Amazon package doesn't have to be an inconvenience. By following these simple steps, you'll be able to navigate the process quickly and smoothly. Whether it's an incorrect item or just a change of heart, Amazon offers a hassle-free solution that caters to the diverse needs of its customers.