Real-life Xena Chakram Weapons Fit for a Warrior Princess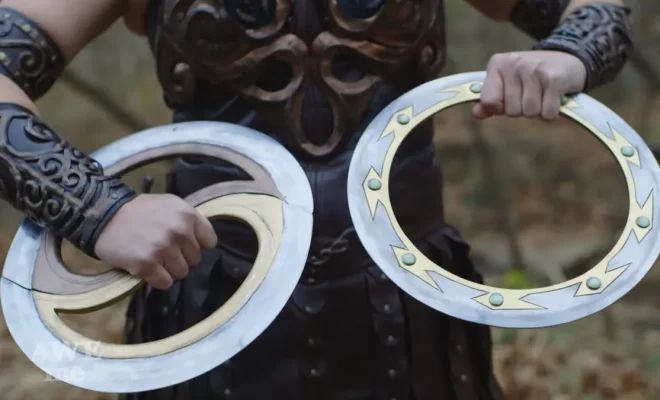 In the realm of fantasy and television, few characters have captured our imagination quite like Xena, the tough-as-nails warrior princess. Played by Lucy Lawless in the 1990's television series "Xena: Warrior Princess," she is a symbol of courage, strength, and female empowerment.
One of the most iconic elements of the show is the unique weapon the character wields: the chakram. This circular throwing disc features a variety of sharp-edged points and was an indispensable tool in Xena's arsenal. The chakram's captivating design and astonishing versatility in battle have spurred enthusiasts to recreate their own versions of this legendary weapon in real life. In this article, we'll delve into the history of the chakram, its cultural significance, and how modern craftsmen are producing real-life Xena chakram weapons fit for any aspiring warrior princess.
The Origins of the Chakram
The chakram has its roots in ancient Indian weaponry, dating back to around 200 BCE. Historically, it was employed primarily by warriors from Punjab—a state straddling modern-day India and Pakistan. The original chakrams were made from high-quality metals like iron or steel and featured a sharp outer edge designed to slice through shields, armor, and enemy combatants as it twirled through the air.
From Ancient Battlefield to Television Icon
When "Xena: Warrior Princess" premiered in 1995, fans were immediately drawn to Lucy Lawless's portrayal of a fierce yet compassionate fighter who wields her chakram with deadly accuracy and grace. Show creators Robert Tapert and John Schulian integrated this exotic weapon into their female hero's toolkit as an homage to Indian culture and ancient warfare techniques. As a result, Xena's chakram quickly became iconic, a symbol not only of her physical prowess but also of her resilience and unwavering determination to protect the innocent.
Modern Craftsmanship Meets Ancient Design
Today, there are a number of talented blacksmiths and artisans who create real-life Xena chakram weapons that are just as stunning as their onscreen counterpart. Utilizing modern metalworking techniques and tools, these craftsmen forge the chakram from high-quality materials such as stainless steel, brass, or even titanium. Some chakrams are ornately decorated with intricate etchings or gemstones, while others maintain a more utilitarian appearance.
Safety First
While the true-to-life chakram weapon is a coveted item among many fans, it's important to remember that these devices can be extremely dangerous if handled improperly. Some creators offer blunt or dulled-edge versions for cosplay or decorative purposes to minimize the risk of accidents. Nonetheless, it's vital to treat these objects with caution and respect for their devastating potential.
In Conclusion
The Xena Chakram has journeyed from ancient Indian battlefields to the realm of pop culture iconography, and it remains an enduring symbol of strength and female empowerment. Whether for display purposes or actual martial arts training, enthusiasts have ample options to equip themselves with a real-life Xena chakram weapon fit for any warrior princess. Always remember to wield your chakram responsibly and revel in its legendary history and captivating design.