Microsoft Surface Studio 2+ Hands On: The Classic All-in-One Gets New Bits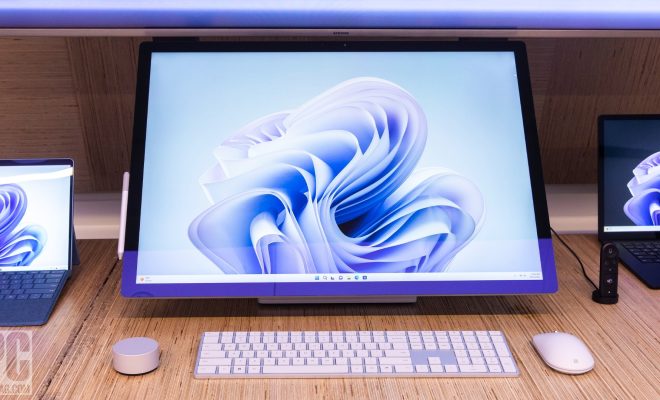 Microsoft continues to innovate and improve its line of creative products with the latest release of the Microsoft Surface Studio 2+. This all-in-one powerhouse is designed specifically for artists, designers, and other creative professionals, and it comes packed with new features and upgraded hardware. In this article, we'll take a closer look at what makes the new Surface Studio 2+ stand out from its predecessors.
A Familiar Yet Refined Design
At first glance, the Surface Studio 2+ may appear quite similar to its predecessor, sporting the same sleek design and adjustable hinge that allows users to switch between an upright position and a flat, drafting-table-like orientation. The 28-inch PixelSense display remains largely unchanged and offers a stunningly clear 4500 x 3000 resolution, making for an incredibly crisp work environment.
However, there are subtle improvements to usability. The base now has additional USB-C ports, moving away from USB-A ports in favor of faster and more reliable connectivity. There is also an SD card slot, which facilitates easier transfer of media files.
Performance Upgrades
Under the hood is where the real differences between the Microsoft Surface Studio 2 and the new Surface Studio 2+ start to become apparent. This updated model boasts significant boosts in performance with the upgrade to Intel's latest 11th gen H-series processors. These powerful CPUs allow for smoother drawing and rendering experiences, even in complex applications like Adobe Creative Suite.
In addition to improved processing power, the Surface Studio 2+ now also features NVIDIA GeForce RTX graphics options. These GPU upgrades facilitate smoother video editing, increased performance in design applications, and support for ray tracing capabilities – a growing feature in gaming and other forms of interactive media.
Upgraded Pen and Dial
The Microsoft Surface Studio 2+ brings with it some notable improvements to its accessories as well. The new Surface Pen boasts reduced latency and improved pressure sensitivity, making for an even more natural drawing experience. Microsoft also updated the Surface Dial to offer a wider variety of customizable shortcuts and controls. This allows users to fine-tune their interaction with the device, further enhancing productivity and creativity.
Final Thoughts
The Microsoft Surface Studio 2+ combines the familiar design of its predecessor with notable improvements in performance and functionality. These upgrades cater specifically to creative professionals who demand a smooth and powerful work environment for their projects. With enhanced accessories and connectivity options, Microsoft has refined its flagship all-in-one device to better suit the needs of its target audience, making the Surface Studio 2+ a welcome addition to any creator's toolkit.