Hybrid Toyota Drove in Electric Mode for 100 Hours Nonstop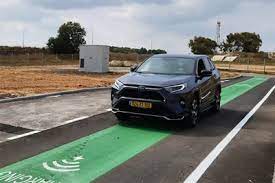 In a groundbreaking achievement for sustainable transportation, a Hybrid Toyota recently managed to drive nonstop for 100 hours in electric mode. This remarkable accomplishment has captured the attention of the automotive industry and served as a testament to the progression and potential of hybrid and electric vehicle technology.
The endurance journey began with a meticulously planned route that took into account various factors like road conditions, traffic, and weather. The Hybrid Toyota embarked on this ambitious course to demonstrate its battery performance, power efficiency, and overall reliability. The team behind this endeavor wanted to show stakeholders and consumers alike that electric driving can be practical, convenient, and more sustainable.
Throughout the 100-hour drive, the hybrid car relied on its electrical power alone, without reverting to its internal combustion engine. This incredible feat showcases significant advancements in battery technology, as well as intelligent energy management systems that govern charge and discharge cycles.
Such accomplishments are pivotal steps toward achieving greater sustainability in our transportation system. By proving that hybrid vehicles can successfully operate in extended electric-only mode, Toyota is paving the way for further research, development, and adoption of cleaner mobility solutions.
This achievement also highlights the fact that electric drives do not have to be limited to fully electric vehicles (EVs). Hybrid cars can contribute just as meaningfully toward reducing carbon emissions and promoting cleaner living by maximizing their electrical potential.
Nowadays, consumers are increasingly concerned about climate change issues and have become more environmentally conscious. The demand for efficient, clean vehicles has been growing exponentially as individuals look for ways to minimize their carbon footprint.
In light of this developing trend, Toyota's successful demonstration of 100 hours of nonstop electric driving promises countless possibilities for ongoing innovation in sustainable mobility. As market trends continue evolving toward cleaner solutions, automakers across the globe are expected to step up their game by unveiling increasingly efficient models.
In conclusion, the Hybrid Toyota's triumphant 100-hour electric drive is a historic milestone that reflects the potential of electric and hybrid vehicle technology. With continuous advancements in sustainability research and eco-friendly innovation, automakers like Toyota are proving that a cleaner future is not just a pipe dream – if we embrace alternatives and foster continuous improvement, we stand to revolutionize transportation for generations to come.