How to Use Bookmarks in Google Docs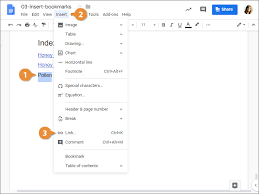 Google Docs is a versatile tool that is widely used by educators, business professionals, and even casual users. Whether you're writing an essay or a report, you might find yourself juggling multiple documents at the same time. This can be confusing, but you can make your life easier by using bookmarks in Google Docs. In this article, we'll explain what bookmarks are and how to use them.
What are bookmarks?
Bookmarks in Google Docs are like the bookmarks you create in a web browser like Chrome or Firefox. They are markers that you can place in a document to help you navigate quickly to a specific section. With bookmarks, you can easily jump from the beginning of the document to the end or skip directly to a particular chapter. You can also share bookmarks with other collaborators, making it easier for them to edit the same document as you.
How to use bookmarks
Creating bookmarks in Google Docs is a simple process, and you can do it in just a few steps. Here's how:
Step 1: Open a Google Docs document that you want to add bookmarks to.
Step 2: Position your cursor at the beginning of the section that you want to bookmark.
Step 3: Click on the Insert tab at the top of the page.
Step 4: Choose Bookmark from the drop-down menu.
Step 5: Type a descriptive name for your bookmark and click on the blue Add button.
Once you create a bookmark, a small blue ribbon icon will appear in the margin next to the text you've selected. To use your bookmarks, follow these steps:
Step 1: Click on the bookmark icon on the left-hand side of the screen. It looks like a small ribbon.
Step 2: Choose the bookmark you want to navigate to from the list.
Step 3: Your cursor will jump to the beginning of the section you've bookmarked.
That's it! You can create as many bookmarks as you need in the same document. You can also delete bookmarks by right-clicking on the bookmark icon and choosing Delete bookmark.
Conclusion
Bookmarks in Google Docs are a great way to keep track of the important sections of a lengthy document. They are easy to create and use, and they can save you time and effort when navigating through your work. Whether you're working on a school project or a business report, try using bookmarks in Google Docs to keep yourself organized and focused.