How to Stream to Twitch on Xbox One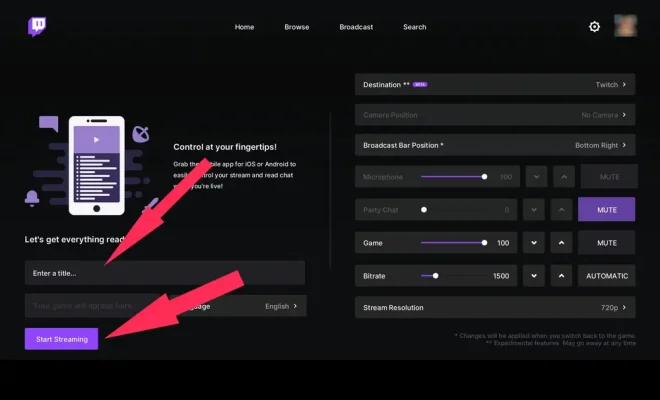 As a gamer, Twitch has probably become a household name for you. It is an amazing platform that offers gamers the opportunity to stream and share their gameplay with a global audience. With the power of the internet, you can share all your in-game moments with anyone who cares to watch. In this article, we will be discussing how to stream to Twitch on Xbox One.
Xbox One is an excellent gaming console that comes packed with features. One of the most exciting features is its ability to stream games directly to Twitch. The process of streaming to Twitch from your Xbox One is straightforward and straightforward. Here's all you need to know.
Step 1: Link Your Twitch Account
The first step towards streaming on Twitch is to link your Twitch account to your Xbox One gaming console. To do this, follow the steps listed below:
1. Turn on your Xbox One and sign in to your Xbox profile.
2. From the home screen, select the 'Settings' option.
3. Navigate to the 'Account' option and select it.
4. Choose the 'Linked social accounts' option.
5. Select 'Twitch' and follow the prompts to sign in and link your accounts.
Step 2: Set Up Your Broadcast
Once your Twitch account is linked to your Xbox One console, you can start setting up your broadcast. The Xbox One has a built-in broadcasting feature that allows you to stream games to Twitch. Follow the steps below to set up your broadcast:
1. Press the 'Xbox' button on your controller to open the guide.
2. Navigate to the 'Broadcast & capture' option and select it.
3. Choose 'Broadcast'.
4. Select 'Twitch' as your streaming platform.
5. Give your stream a title and choose the streaming quality.
6. You can choose to include your party chat audio or commentary.
Step 3: Start Streaming
Once you have completed the setup process, you can start streaming your gameplay to Twitch. To do this, follow the steps below:
1. Press the 'Start broadcasting' button to begin streaming.
2. You can use the controller to navigate the game while streaming. The broadcast status will be displayed at the top of your screen.
3. When you are ready to end the stream, press the 'Stop broadcasting' button.
Conclusion
Streaming to Twitch on Xbox One is a fantastic experience that allows you to connect with gamers from around the world, share your gameplay, and grow your audience. By following the steps above, you can easily start streaming your Xbox One games to Twitch. Remember to have fun and enjoy the experience!