How to Find Cheap Flights: A Comprehensive Guide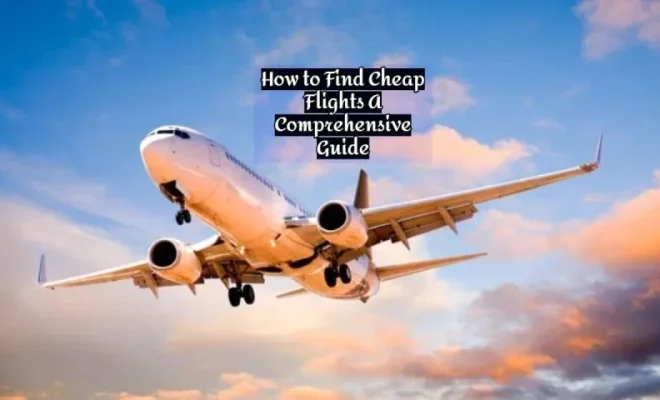 Traveling can be an enriching experience, but it often comes with expenses that can add up quickly. One of the most significant costs is airfare. However, finding affordable flights doesn't have to be a daunting task. With some research and strategic planning, you can save money and find great deals on your next flight. In this article, we'll explore effective tips on how to find cheap flights.
1. Be Flexible with Dates and Destinations:
Being flexible with your travel dates allows you to take advantage of cheaper fares when they become available. Consider traveling during off-peak seasons or mid-week when prices tend to be lower. Additionally, being open to alternative destinations or nearby airports can lead to substantial savings.
2. Use Flight Search Engines:
Flight search engines are powerful tools that compare prices across multiple airlines and travel websites simultaneously. Some popular options include Skyscanner, Kayak, Google Flights, and Momondo. These platforms allow you to enter your preferred departure and arrival locations along with flexible date ranges for comprehensive search results.
3. Set Fare Alerts:
Take advantage of fare alert features provided by many flight search engines or specialized websites like Airfarewatchdog or Scott's Cheap Flights. By setting alerts for specific routes or destinations, you will receive notifications whenever there are significant price drops or promotions in real-time.
4. Consider Budget Airlines:
Budget airlines offer competitive fares by providing no-frills service options without compromising safety standards (e.g., Southwest Airlines in the US). While these carriers may not offer luxurious amenities commonly associated with full-service airlines, they can significantly reduce your ticket costs.
5. Book Connecting Flights Separately:
In some cases, booking separate tickets for each leg of your journey rather than a single through-ticket could result in lower fares. However, this method requires careful planning and consideration of potential risks such as flight delays or missed connections.
6. Clear Browser Cookies or Use Incognito Mode:
Flight prices can sometimes increase when airlines track your search history through cookies. To avoid this, clear your browser cookies before searching for flights, or use the incognito mode provided by most browsers to conduct searches without any stored data influencing prices.
7. Consider Alternate Airports:
Flying into or out of alternate airports near your desired destination can often result in cheaper fares. Research nearby airports and compare prices to see if it's worth considering a slightly different route.
8. Utilize Frequent Flyer Programs and Travel Rewards Credit Cards:
If you frequently travel with a particular airline, signing up for their frequent flyer program can earn you miles that can be redeemed for discounted flights or upgrades in the future. Additionally, using travel rewards credit cards allows you to accumulate points that can be used towards airfare purchases.
9. Be Ready to Book Quickly:
When you come across an excellent deal on a flight ticket, don't hesitate too long as prices may change rapidly due to high demand or limited availability. Be prepared with necessary details like passport information and payment methods so that you're ready to book immediately when an opportunity arises.
Conclusion:
Finding cheap flights is not only about luck but also being proactive and strategic in your approach. By following these tips – staying flexible with dates and destinations, utilizing flight search engines effectively, considering budget airlines or alternate airports – you'll have a better chance of finding affordable airfares while still enjoying memorable travel experiences without breaking the bank. Remember: patience is key! Take time to research various options thoroughly before making a final decision; doing so will increase your chances of securing great deals on flights for your next adventure!