How to Clean a Wood Cutting Board Properly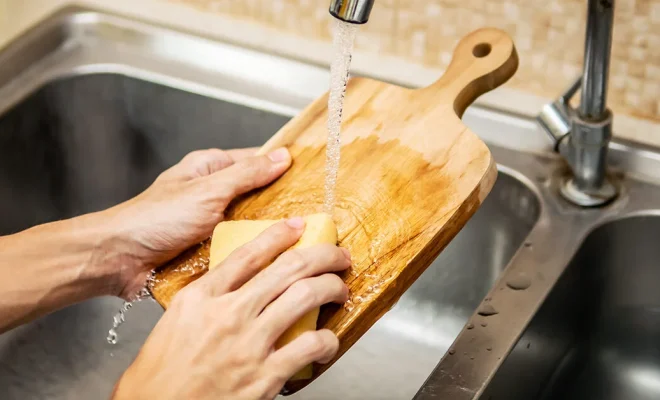 A wood cutting board is an essential accessory in any kitchen and taking care of it is crucial for maintaining its longevity and hygiene. Knowing the proper way to clean a wood cutting board is essential for food safety and preventing cross-contamination. Follow these simple steps to ensure your wood cutting board remains clean, germ-free, and ready for your cooking adventures.
1. Immediate Cleanup
As soon as you are done using your wood cutting board, rinse it with warm water to remove any excess food particles or liquids immediately. This prevents food from hardening on the surface and minimizes the chance of bacteria growth. Avoid soaking the cutting board in water, as this can cause it to warp.
2. Apply Mild Soap and Warm Water
Using a soft sponge or cloth, apply a mild dish soap mixed with warm water to gently clean the surface of the cutting board. Be sure not to use abrasive brushes or sponges that might damage the wood.
3. Rinse Thoroughly
Rinse the soapy water off of your cutting board, ensuring all residue is removed. It's essential that there's no soap remaining on the surface of the cutting board.
4. Dry Properly
Use a clean towel to pat dry your wood cutting board, making sure you don't leave any moisture behind. You should also allow it to air dry standing upright for several hours after wiping it down. This ensures any remaining moisture evaporates without causing warping or damage.
5. Sanitize Regularly
To sanitize your cutting board occasionally, use a solution of one tablespoon of bleach mixed with one gallon of water. Pour this solution over your cutting board and let it sit for a few minutes before wiping it off with a clean cloth and rinsing thoroughly with water.
6. Oiling Your Cutting Board
Maintain your wood cutting board by regularly applying food-grade mineral oil once a month or when it appears dry. This helps preserve, hydrate, and protect the wood, preventing it from cracking or splitting. Remember to use food-grade products only and always remove excess oil with a clean cloth after application.
7. Removing Stains and Odors
To remove stains and odors from your cutting board, sprinkle coarse salt all over its surface, then rub half a lemon over the board in circular motions. Rinse with warm water and pat dry. This natural method helps eliminate stains, unpleasant odors, and any lingering bacteria.
By following these steps on how to clean a wood cutting board properly, you'll ensure your kitchen accessory remains in great condition for years to come. Regular upkeep not only extends the cutting board's lifespan but also guarantees food safety for you and your family.