How to Cancel a Stuck Print Job in Windows 10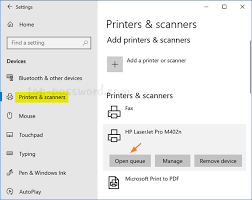 Are you tired of waiting for your printer to finish a stuck print job? Well, here's a simple guide to canceling a stuck print job in Windows 10.
Step 1: Stop the print spooler
The first step is to stop the print spooler. To do this, press the Windows key + R on your keyboard to open the Run dialog box. Type "services.msc" into the box and hit enter. This will open the Services window. Scroll down to find the "Print Spooler" service and right-click on it. Select "Stop" from the drop-down menu.
Step 2: Clear the print queue
Now that the print spooler is stopped, you can clear the print queue. Navigate to the "C:\Windows\System32\spool\PRINTERS" folder. You can do this by opening File Explorer and typing that path into the address bar. Once you're in the PRINTERS folder, select all the files and delete them.
Step 3: Start the print spooler
Now that the print queue is cleared, you can restart the print spooler. Go back to the Services window and right-click on the "Print Spooler" service. Select "Start" from the drop-down menu. This will start the print spooler and allow you to print again.
Step 4: Reprint your document
Open the document you want to print and try printing it again. Your printer should now be back to normal and able to print the document without any problems.
In conclusion, canceling a stuck print job in Windows 10 is a straightforward process that can save you time and frustration. By stopping the print spooler, clearing the print queue, and restarting the print spooler, you can quickly and easily get back to printing.