HDMI vs. DisplayPort vs. DVI vs. VGA: Which connection to choose?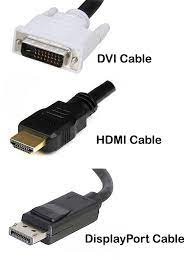 In today's digital world, choosing the right connection for your devices has become an essential aspect of maximizing performance and quality. The four most popular types of connections are HDMI, DisplayPort, DVI, and VGA. In this article, we'll explore the differences between these connections and help you determine which one is best for your needs.
1. HDMI (High-Definition Multimedia Interface)
HDMI is currently the most widely used connection in consumer electronics. It supports both video and audio transmission in a single cable, making it a popular choice for connecting gaming consoles, Blu-ray players, streaming devices, and more to TVs or monitors. HDMI supports resolutions up to 4K and even 8K with HDMI 2.1.
Pros:
– One cable for audio and video
– Supports high resolutions
– Widely used across various products
– Capable of carrying Ethernet data
Cons:
– Limited cable length (typically up to 5 meters)
– Older versions don't support newer features such as HDR
2. DisplayPort
DisplayPort is primarily used in professional settings that require high-quality displays, such as design studios or gaming setups. It also has the advantage of carrying both audio and video signals and can support up to 8K resolutions at 60Hz refresh rate.
Pros:
– Supports high resolutions with high refresh rates
– Compatible with multiple monitors using just one cable (daisy-chaining)
– Adaptive sync support (FreeSync and G-Sync) for smoother gameplay
Cons:
– Not as widely adopted in consumer electronics
– Cables can be expensive
3. DVI (Digital Visual Interface)
DVI was initially designed to take over VGA as a digital standard in computer displays but quickly became overshadowed by HDMI due to its limited capabilities. DVI can transmit both digital and analog video (limited to video only) and has a maximum resolution of 1920×1200.
Pros:
– Better quality than VGA
– Works with older devices that don't have HDMI or DisplayPort
Cons:
– Doesn't support audio transmission
– Limited resolutions compared to HDMI or DisplayPort
4. VGA (Video Graphics Array)
VGA is the oldest and most limited connection option in this list. It has an analog signal and is commonly used with older computers and monitors. VGA's maximum resolution is 1920×1200, but the quality degrades over cables longer than 3 meters.
Pros:
– Compatibility with older devices
Cons:
– Degradation of the signal
– Analog connection, lower quality compared to digital options
– No audio support
– Obsolete in most modern devices
Conclusion:
The right connection depends on your requirements and considerations for the different connector types. If you have a new device with high-resolution capabilities, HDMI or DisplayPort are your best options. For home entertainment with high-quality video and audio through a single cable, HDMI is the go-to choice. On the other hand, if you require higher resolutions with multiple monitors in a professional setting, DisplayPort would be more suitable.
DVI should only be used if your devices don't support HDMI or DisplayPort. Finally, VGA should be avoided unless you're working with older equipment without any better options available.