Don't Table the Tablets Just Yet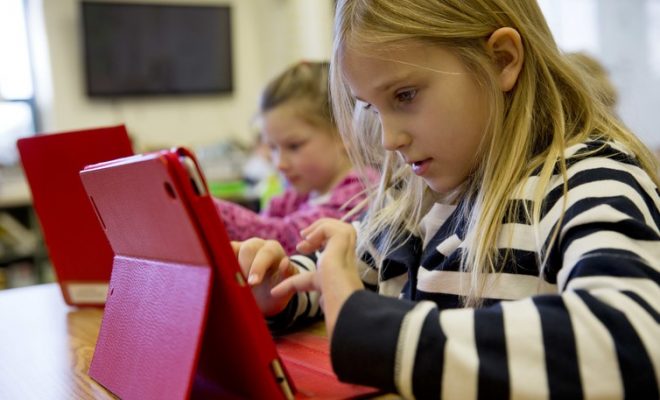 When tablets first arrived in classrooms, students and teachers alike found themselves drawn to the visual intensity of the screen. The apps available for download inspired the imagination, sending a siren's call to be included in classroom instruction.
We've come a long way from the first eye-candy apps that attracted our attention. With thousands of available apps and tools for classroom instruction, tablets engage students in learning in ways that traditional methods cannot, especially when teachers incorporate activities like anonymous polling and screencasting.
When teachers include the use of tablets in their instruction, they begin to break down any real or imaginary barriers between themselves and their students. The tablet is thin and hardly noticeable, the size of a standard sheet of paper or smaller. Because it's lightweight and easily portable, the tablet is easy to carry – for students and their teachers. Tablets fit in most bags and briefcases and are easier to transport to group activities. Ultimately, tablets are unobtrusive digital companions.
Size, however, isn't everything. Tablets in the classroom streamline the teacher's job. Every teacher recognizes the need to manage the vast accumulations of paper that can add up in a classroom. The tablet reduces over-reliance on paper.
Should you choose tablets as your preferred classroom digital device, you'll still have to teach some basic tablet skills, such as:
Organization: Your students likely will be better at finding useful apps than you, and they'll want to help in that respect. Screens full of seemingly random apps make finding tools difficult. Develop a strategy for app organization by designating the first screen for software that facilitates instruction, such as Word or Keynote. Designate another screen for "need occasionally apps" such as weather and maps. Give every app a landing page.
Digital citizenship: Tablets connect students to the digital highway, but that doesn't give learners carte blanche to do whatever they want when online, including downloading unauthorized apps.
Offline engagement: Tablets are useful tools, but you and your students will need a break from them. Digital devices are only one of many tools in your instructional arsenal, and students still need to develop their interpersonal communication skills. Put away the tablets for part of the day.
You may be tempted to table the tablet, but don't give in. Some tablet-users find it frustrating that tablets don't replicate the characteristics of a laptop. Tablets aren't supposed to. You cannot use a USB on your tablet, and you won't be able to play DVDs or CDs – if you still have them. Instead, users must think differently about how they interact with the devices. For example, they can store files in Dropbox and download digital music and video.
Remember when Goldilocks proclaimed that she liked the chair, porridge, and bed that was just right? She would like tablets, too. Tablets are the just-right choice in the tech world; they are neither too small or too big.
Whether you use a iPad or other device, the tablet is more convenient in a classroom. It's a useful au pair in the classroom when working on projects, and it lends itself to digital conversations in ways that smartphones can't replicate because tablet keys are bigger and side-by-side screens are easier to read and manipulate.
Tablets are still a preferred choice in many classrooms. Are they in yours?