BMW made a car that can change colors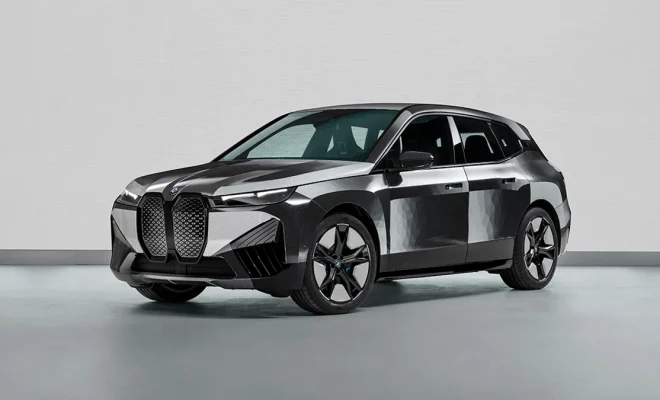 Introduction:
BMW, the German luxury automobile manufacturer, has once again outdone itself with its latest innovation: a car that can change colors at the touch of a button. The new technology is set to turn heads and revolutionize the way people personalize their vehicles.
The Concept:
The innovative color-changing technology is based on E-ink, which is primarily found in e-reader devices and digital signage. BMW's expert research and development team adapted this technology for use in their automotive paint applications. The result is a color-changing surface that is smooth, lightweight, and energy-efficient.
How it Works:
The E-ink panels are applied to the exterior of the car, creating a flexible and customizable surface. Drivers can change the color of their BMW by selecting from various presets or creating a custom color palette via an app connected to their vehicle. As electrical signals pass through the panels, colors shift instantly and seamlessly on the car's surface.
Benefits:
The color-changing technology offers several benefits over traditional automotive paints. First and foremost, it's eco-friendly as it eliminates the need for repainting when changing a car's appearance. Additionally, energy consumption is low due to the passive nature of E-ink panels.
For drivers in unpredictable weather conditions or who often travel between different environments, this technology can be used to adapt their vehicle's appearance for safety or visibility purposes. For example, changing to a brighter color during heavy rain or fog could improve road safety.
Looking Ahead:
While BMW currently showcases this groundbreaking color-changing technology as part of a concept vehicle, it is likely only a matter of time before it becomes available on production models as well. The implementation of E-ink panels in automobiles opens up endless possibilities for personalization and creativity.
In conclusion:
BMW has once again proved itself to be at the forefront of automotive innovation with its color-changing car concept. The environmentally friendly and energy-efficient technology demonstrates that the future of automobile design is filled with limitless possibilities. Car enthusiasts worldwide eagerly await the day when they can experience the magic of color-shifting vehicles on the open road.